Rainfall Causes Construction Delay on South Shores Bridge
Posted: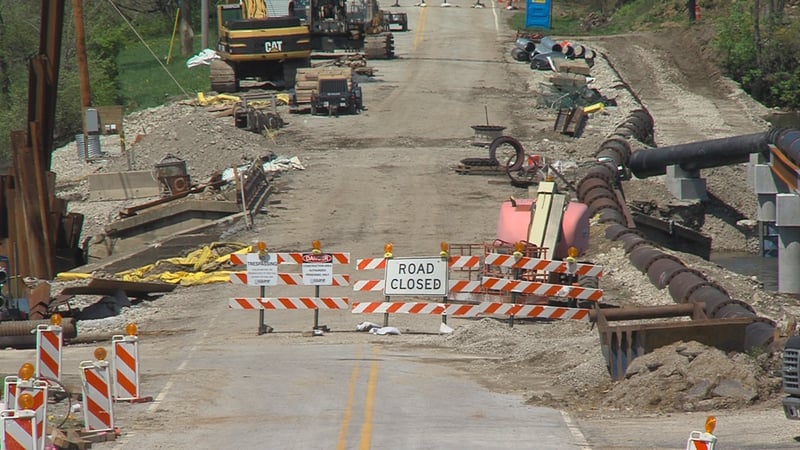 Since 1909, thousands of cars have gone across the South Shores Drive bridge. More than 100 years later, striped orange and white signs barricade drivers from riding through.
Decatur's Assistant City Manager, Billy Tyus said, "The South Shores bridge over the years has deteriorated."
Therefore, it had to be replaced.
"It was safe for routine travel, but you don't want to get to a situation where it becomes unsafe," Tyus added.
"We were able to take South Shores and then after that the bridge was closed and now we have to go to Grove Road" said, Decatur resident Mary Chance.
Along with the $2.8 million project, the sewer line the runs underneath the bridge also needed some work.
Tyus told WAND, "In order to raise the bridge you also have to raise the sewer line. Because of the heavy rains here recently, the sewer has been full, so we didn't want to proceed with raising the sewer. . . So it's been a little bit of a delay."
The heavy rain was not the only trouble for people rerouting to Grove Road.
"last week with all the rain, then Grove Road was closed. Then we had to take an alternate to the alternate. I don't even know what the road was, but it was pretty far away to go around," Chance added.
Chance said, she has to leave about 10 minutes earlier to take her children to school. She hopes that time will be knocked down in six months.
"I heard October 1st, so I'm hoping. I don't know what year October 1st, but I did hear October 1st and that would be great. Especially in the winter, Grove Road can get a little scary with the ice and the snow, so hopefully that was the last winter and this winter the new road will be open," Chance said.
"We need the rain. . . However, we also understand that it may have created some inconveniences for some folks. So we ask for some patience," Tyus said.
This multimillion dollar project is scheduled to be completed by October. Tyus said, even with the delay, they may finish construction before October.