State Farm Buys Naming Rights for Assembly Hall
Posted: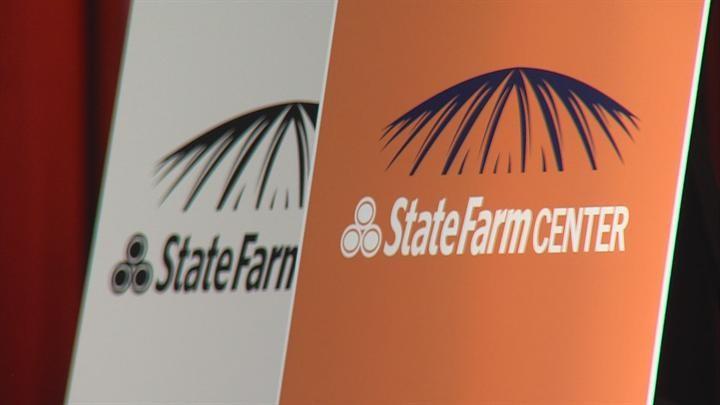 by Matt Loveless
CHAMPAIGN - A planned $160 million renovation to what's been known as Assembly Hall got a big boost Monday, but it comes with a big change.
Athletic Director Mike Thomas announced State Farm would become a major sponsor of the renovation, and thus earn the naming rights for the new arena.
From this day forward, it will be called the State Farm Center. The university and State Farm agreed to a $60 million, 30-year naming rights deal, which means the name won't change again until at least 2043.
State Farm is headquartered in Bloomington, just 50 miles away from where its namesake sits on the U of I campus.
"We're really involved here, it's in our backyard. We've been in Illinois for 90 years," said Holly Anderson, Public Affairs Specialist for State Farm. Anderson said they had been approached about naming right for sports arenas before, but never felt like there was a good fit, until now.
"When you can check this one off the box -- and it is a big one -- that certainly puts you at a much better position to move this along in a timely manner," Mike Thomas, Illinois Athletic Director, said Monday.
While Thomas said he thinks fans will love to new name, many are already showing resistance to the change. Fans have weighed in on the
WAND Facebook Page
:
"It will always be Assembly Hall to me."
"Tradition... GONE!"
"Sold their soul to corporate greed..."
No one on the inside, however, is lamenting the change, and especially not men's basketball coach John Groce, and women's coach Matt Bollant. The two, who spend much of their winters in the building, recognize that in order to get what they want in a facility, certain deals need to be made.
"To do things you haven't done, you need to do things you haven't done before," said Groce. "I tell our players, if you're staying the same, then you're really getting worse, because the people that are on an upward trend are passing you by."
"First thing we do: Walk into my office and show them a video of what it's going to look like, and show them pictures," said Bollant. "Obviously, it's that big a deal to recruits, so we show them right away."
Construction on the project, should all funding come through, would begin in March of 2014. Thomas said the project should be completed by the fall of 2016.