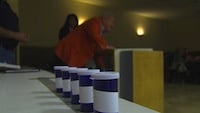 DECATUR - It was a big night for St. Teresa High School. The school held its annual Mega Raffle Friday night at the KC Hall in Decatur.
Thousands of tickets were sold.
75 prizes were given away at the big party, including a grand prize of $100,000. Second place was a choice between a 2013 Chevy Equinox or $25,000 in cash.
Proceeds from the sale of tickets benefit St. Teresa High School and area Catholic Grade Schools.
This was the 18th annual Mega Raffle.
For updates on the big winners, click on the link:

http://www.st-teresahs.org/click-here-to-buy-your-ticket-or-find-a-location/