Oasis Struggles For Funds
Posted: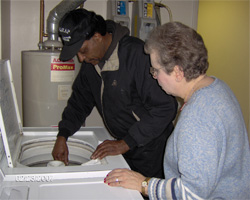 Decatur - A shelter for the homeless is hoping to find new funding sources to keep its doors open.
The Oasis Day Center, at 243 W. Cerro Gordo Street, has been providing a day shelter for the homeless since 1999. It has now lost a grant that provided its funding for the past three years.
The Oasis serves nearly 2,000 adults each year. Many suffer from multiple problems from substance abuse to mental illness. On any given day the shelter provides support for 120 to 150 people a day.
With state and federal funding dried up, corporate donations down, the facility is hoping the Decatur community will help. "The faith based community is getting ready to do a ministerial summit," Heritage Behavioral Health Center President Diana Knaebe told WAND News. "The Oasis situation will be one of the issues that they'll be dealing with as well."
In addition to shelter the Oasis provides the homeless with a place to shower and wash clothes.
"I actually need this place," Laviko Maclin, a homeless student, told WAND's Doug Wolfe. "It's helped me with washing my clothes. A place where I can store some of my stuff because they have lockers in there." Maclin hopes to use his education to obtain a job.