Concealed carry passes Illinois House
Posted: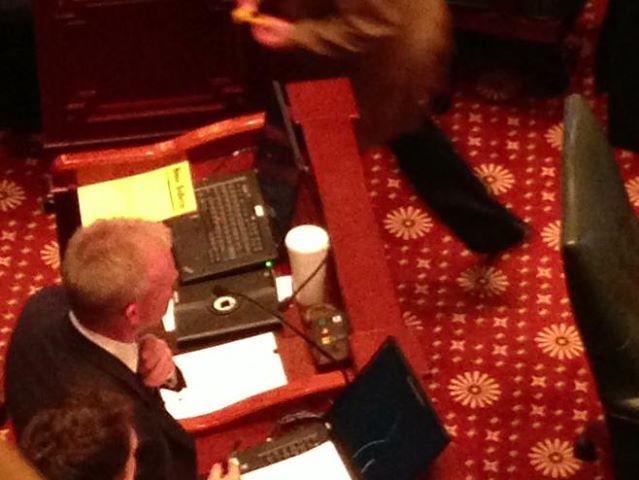 SPRINGFIELD, Ill. -- The Illinois House has approved a plan to allow qualified gun owners to carry their weapons in public.
The proposal adopted Friday was brokered by House Speaker Michael Madigan, but it's opposed by several of his fellow Democrats, including the governor.
Governor Pat Quinn said the bill "puts public safety at risk" and vows to do all he can to prevent the bill from passing in the Illinois Senate.
"This legislation is wrong for Illinois," Quinn said.
"It was wrong yesterday in committee, it's wrong today, and it's wrong for the future of public safety in our state," the governor added.
State Representative C.D. Davidsmeyer (R-Jacksonville) was among those who voted in favor of Senate Bill 2193, which passed the House 85-30-1 and now moves to the Senate.

"This bill is not perfect, but it is an acceptable, common sense compromise which respects the Constitution, while keeping our communities safe," Davidsmeyer said. "This finally will bring Illinois into line with every other state in the nation."
Citing an FBI study, supporters said this was the right decision for the people of the state.
"There's a 22% decrease in violent crime rates. There's a 30% decrease in murder rates. There's a 46% decrease in robbery rates, and a 12% decrease in aggravated battery rates," said Red Bud Representative Jerry Costello.
"And everywhere it's been, in this country, crime has gone down dramatically," added Phelps.
However, opponents disagree with the numbers.
"This study that everyone keeps mentioning about how this is going to make us safer is crap. It was funded by the firearm industry. It is not something that is valid for this discussion," said Chicago Representative Christian Mitchell.
Chicago Representative Kelly Cassidy added,"from the Violence Prevention Center, 508 people, including 14 members of law enforcement since 2007 have been killed in incidents, non self defense incidents by conceal carry permit holders."
Governor Quinn says he opposes the plan because it would wipe out local gun ordinances -- including Chicago's ban on assault weapons. Quinn issued a statement minutes after the House passed the bill on Friday.
Senate President John Cullerton signaled a fight when the bill hits the Senate.
He said a concealed carry bill that wipes out local gun ordinances in the state is "offensive."

Cullerton says another problem with Madigan's bill is that it would allow people to bring guns into some places that serve alcohol.

Cullerton says his Democratic caucus will meet Monday to decide whether to vote on the House's bill.
The full text of the bill can be found at this link:
http://www.ilga.gov/legislation/billstatus.asp?DocNum=2193&GAID=12&GA=98&DocTypeID=SB&LegID=73781&SessionID=85