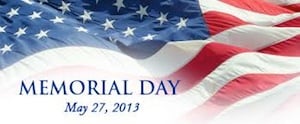 SPRINGFIELD, Ill. -- According to the Illinois Department of Transportation , there were 59 vehicle fatalities, 31 of which involved alcohol, during Memorial Day weekend from 2009 through 2011.

As a result, The Illinois State Police say they're going to be out strictly enforcing speeding, distracted driving, seat belts and drunken driving laws this weekend.

Illinois Secretary of State Jesse White says the holiday is a time for the nation to remember and honor men and women who died while serving in the U.S. Armed Forces. But he says it's also the unofficial beginning of summer and families and friends gather to celebrate.
White says after drinking, call a cab, use a designated driver or take public transportation.
The secretary of state's office will join IDOT, the Illinois State Police and other law enforcement officials to conduct the vehicle safety checks.