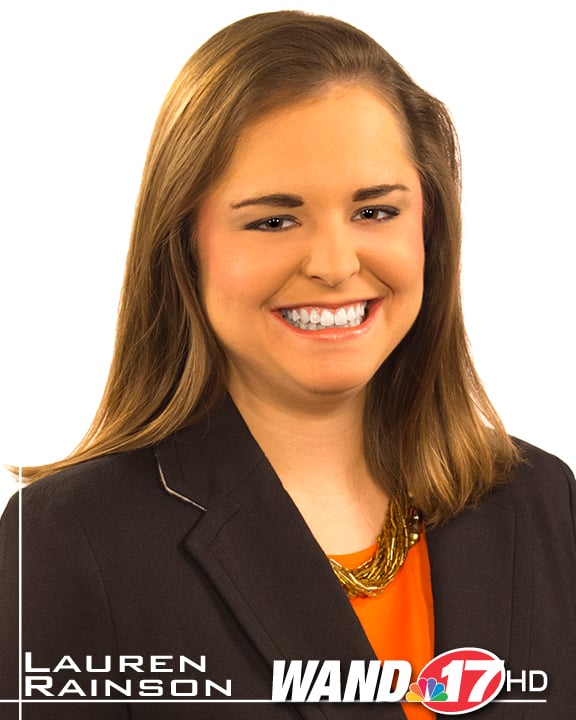 Email Lauren at lauren.rainson@wandtv.com
Find Lauren on Facebook
Follow Lauren on Twitter

Hello Central Illinois! I recently graduated from good ole Eastern Illinois University on May 4, 2013. Two days later, I started my career as a meteorologist and reporter at WAND TV News Channel 17...Central Illinois' Best Source for News and Weather! I love Central Illinois! I was born in Springfield (lived there the first 15 years of my life) and moved to Champaign in 2005. My family has lived there since. Now, I live exactly in the middle--Decatur!

I studied Broadcast Meteorology, Communication, Geography, Earth Sciences, and Sociology at Eastern Illinois University, where I obtained my Bachelors Degree. While attending school full time, I worked for PBS affiliate, WEIU TV and WEIU FM. One of the biggest misconceptions many people have toward WEIU is that it is a "college TV station." In fact, Emmy Award-Winning WEIU TV is a PBS station and just happens to reside on EIU's campus (which was convenient). I did it all at WEIU, from behind the scenes (production) to weather to news and sports anchoring/play-by-play.
WEIU TV and its news director, Kelly Runyon, truly transformed me into a well-rounded broadcaster and helped me learn what it means to serve Central Illinois. In summer of 2013, WEIU TV nominated me for the category "Best TV Weathercast" at the Illinois Broadcasters Association, and I won first place. Since early 2012, I have been a member of Gamma Theta Upsilon International Geographical Honor Society. As of May 6, 2013, I have been lucky to work in the same television market of Central Illinois, but at WAND TV in Decatur. The transition from a PBS station to an NBC, commercial, station was a little difficult at first, but I got to know the ropes. I enjoy working with my boss, Chief Meteorologist JC Fultz. He is amazing at what he does and continues teaching me so much! I hope to continue serving my home--Central Illinois--for years to come!