Former OK State, Rochester HS QB Lunt to Transfer to Illinois
Posted: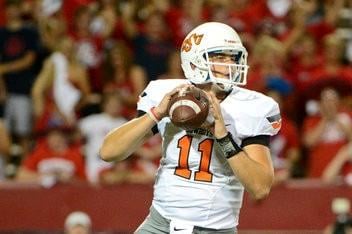 ROCHESTER -- In a move sure to re-ignite some excitement into Illini football, former Rochester High School quarterback Wes Lunt will transfer to Illinois.
That included Illinois.

"As soon as they could, they were on me, and that's fun to see," said Lunt, at a press conference announcing his decision on Monday.
At one point in September, he was a freshman phenom for the Cowboys, highlighted by an 11-for-11 debut against Savannah State. In his third start, he injured his knee, and upon his return was thrust into a quarterback battle.
When that battle didn't tilt his way after the 2013 spring season, Lunt decided it was time to move on, and other schools flocked to court the young QB.
A lot of them.
"If I were guessing, I'd bet it was over 200 phone calls within a week," said Derek Leonard, Rochester HS head football coach.
"You knew it was going to kind of blow up, but you didn't think it was going to go to that extent," said Lunt, "so it was pretty crazy for that week, two weeks."
Ultimately, the Illini seemed to win by virtue of home field advantage.
"Just playing in your home state, there's something about that that's special," Lunt said. "Getting family and friends at every game is really nice."
As a true freshman, Lunt was named the game one starter for Oklahoma State. In five games of an injury-shortened season, he completed 61.8% of his passes for 1,108 yards. He had a 137.3 passer rating, which is 24 points higher than the combined efforts of Illinois QBs (113.4) in 2012.
He'll return to familiar confines -- with two high school state championships (2010, 2011) -- both at Memorial Stadium.
Due to transfer rules, Lunt will sit out a year -- the last in the college career of Illinois starter Nathan Scheelhaase. Where Lunt will factor after that remains to be seen.
As it stands now, he'll contend with incoming 4-star freshman Aaron Bailey (2013), 2014 commit Chayce Crouch, and Reilly O'Toole, who will be a senior in Lunt's first year of eligibility.