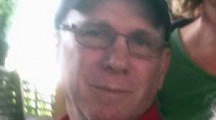 SPRINGFIELD, Ill. (AP) -- Central Illinois authorities say they've found the body of a missing Springfield area man who disappeared more than two weeks ago. Timothy "Mo" Ryan's body was found yesterday by a search-and-rescue team in the middle of a training exercise.
Ryan's body was located in a wooded area on Springfield's southwest side.

Ryan was last seen earlier this month in a village just south of Springfield.
An autopsy is scheduled today to determine the cause of death.

Ryan was 57 years old.