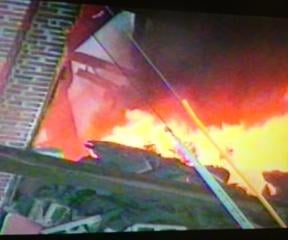 HOOPESTON - Fire investigators are still fighting a major fire at a used tire plant.

Multiple fire departments were called to the scene Wednesday when the fire broke out at J and R Used Tire Service. Authorities told WAND News significant progress was made overnight in efforts to contain the fire.

Employees were in the building at the time but they were safely evacuated and no injuries have been reported
Departments from Hoopeston, East Lynn, Wellington, Bismarck, Rossville, Rankin, Potomac, Bluegrass, Danville, Milford, Watseka and other surrounding areas were called to help fight the fire, which some authorities said could burn for days.
In response to an ongoing fire in Hoopeston at the tire recycling plant, the Red Cross opened a shelter located at the First Church of God (1004 E Orange in Hoopeston). The shelter will be open and ready to receive evacuees at 6pm this evening. At a Red Cross shelter, affected residents will receive food and shelter while first responders extinguish the flames.
Hoopeston is located about 100 miles northeast of Decatur.