Rutherford named President and CEO of St. Anthony's Memorial Hospital
Posted: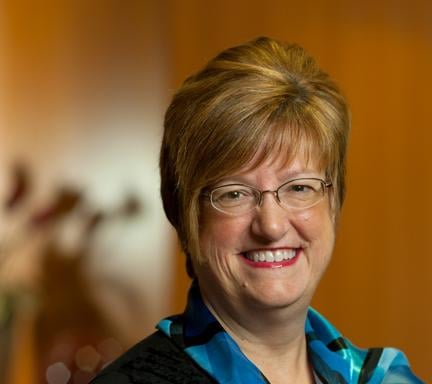 EFFINGHAM - Hospital Sisters Health System (HSHS) today announced the appointment of Theresa Rutherford, RN, MSN, MBA, FACHE, as President and CEO of St. Anthony's Memorial Hospital in Effingham.
Rutherford has served as Chief Operating Officer at St. Mary's Hospital in Decatur since 2006. During her time as COO at St. Mary's she took on a dual role as Chief Nursing Executive until a Chief Nursing Officer was hired. Rutherford began her career with HSHS in 1979, starting her first job as an LPN at St. Mary's.
"I am honored and grateful for the opportunity to serve in this capacity and lead St. Anthony's," said Rutherford. "I look forward to working with the dedicated colleagues, high caliber physicians and a board of directors who truly care about St. Anthony's Memorial Hospital and the health care that is provided in the community."
During her tenure at St. Mary's, Rutherford worked closely with President and CEO Kevin F. Kast in leading the St. Mary's Campus Redesign, which included the new Lobby, Emergency Department and Laboratory. She also played a key role with the relocation of all Prairie Cardiovascular's Decatur services to the St. Mary's campus. Under her leadership, St Mary's Hospital twice received the Bronze Lincoln Award for Quality.
"Throughout her career Theresa has demonstrated a passion for patient care. She has a keen understanding of how to balance the needs of multiple constituencies to achieve results," said HSHS President and CEO Mary Starmann-Harrison. "While I know our colleagues and physician partners at St. Mary's will miss Theresa, we are excited that she will bring her exceptional leadership and management skills to St. Anthony's."
After her first job at St. Mary's, Rutherford worked at Carle Foundation Hospital, in Urbana, Ill., where she was eventually promoted to Director of Medical Surgical, Maternal-Child and Rehabilitation Nursing. She then served as the Vice President of Patient Care Services at Galesburg Cottage Hospital in Galesburg, Ill. She was the Vice President Patient Care Services/Chief Nursing Officer for The Finley Hospital in Dubuque, Iowa, before her eventual return to HSHS.
Rutherford is a native of Coffeyville, Kansas. She completed her undergraduate degree in Nursing at Millikin University. In addition, she holds a Masters of Science- Nursing Administration and a Masters of Business Administration from the University of Illinois at Chicago. She is also a Fellow in the American College of Healthcare Executives. She and her husband Tom have four adult children.
Rutherford will begin her new role at St. Anthony's on July 15.
For more information about St. Anthony's Memorial Hospital, visit St. Anthony's web site at stanthonyshospital.org.