Plaza TV & Appliance owner: "I'm definitely packed into a sardine can."
Posted: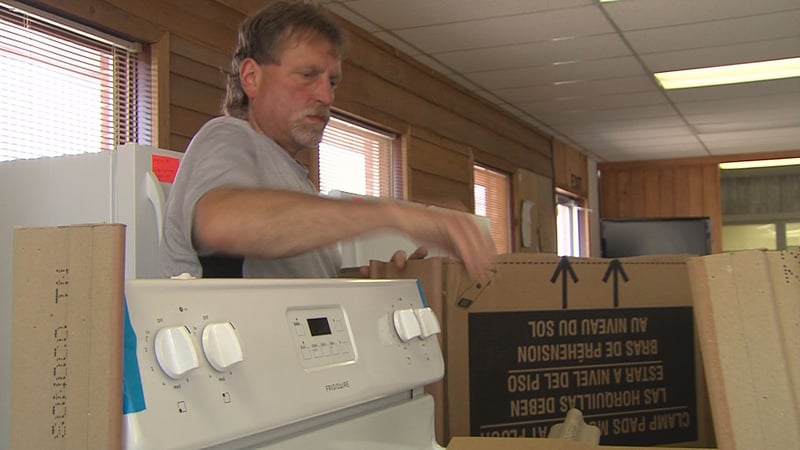 It's been more than a month since a tornado ripped across Decatur's northwest side. Plaza TV & Appliance on Oakland Avenue was the hardest hit. The roof was ripped off and lots of damage inside and out. Now the business owner is trying to move forward at its new location.
Nothing about Owner Doug Sroka's story has been easy from the clean up to the opening up of the new location but this store spot is convenient, just four blocks down from the old place. That makes it possible for Sroka to go back and forth when he needs to. And while the location has moved, customers are moving right along with it.
Sroka's picking up the pieces and trying to put them back together again at his new spot right down the street.
"I feel like I'm definitely packed into a sardine can down there," Sroka said.
Sroka referring to the 3000 square foot building packed tightly with televisions, refrigerators, washers and dryers.
"We did lose 4,000 square feet so this becomes the showroom, the warehouse and the service areas so it makes it a little tough, a little tight," Sroka said.
Appliances, old and new, stand side by side when he used to be able to separate them all and he's still unpacking.
"I guess I never really realized how big of store I really had until I actually had to move everything out and come down here," he said.
Sroka hasn't left the old location completely behind. He still picks up his mail there. At the new location, it's taken some getting used to the smaller space, but it's business as usual.
"Business has actually been good. Of course I've got people who I've dealt with for years and they find us," Sroka said.
And soon they should be able to find him right where they used to for 35 years.
"I'm ready to get back to Kansas," Sroka said. "I'm tired of being in Oz."
The plans are that the original spot will re-open in a few months around Labor Day. He did sign a six month lease though for the new location, so in case plans are pushed back, he still has a place to be.