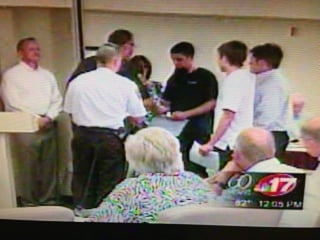 MACON COUNTY - Local officers and citizens were recognized this week at the Macon County Board meeting for their heroic actions during a pair of deadly crashes.
Several officers were honored for their investigations in the hit and run case in which toddler Zyonne Cooper was killed.
Five citizens and two officers were recognized for trying to save a man from a burning vehicle.
Michael Dust, Nicholas Scherer, Austin Conour, Jerome Lee and Monica Bailey, were honored for their efforts to put out a fire after a single-vehicle crash on U.S. 36 at Macon County Highway 57.
Deputy Timothy Houk of the Macon County Sheriff's Office and officer James Stevens of the Mount Zion Police Department later pulled the driver from the burning vehicle. The driver later died from injuries caused by the crash.
"They put themselves in peril to try and help another person and I couldn't go without recognizing them along with my officers and the officers actions," said Macon County Sheriff Tom Schneider.