Miller Training for NFL, Still Waiting for Call
Posted: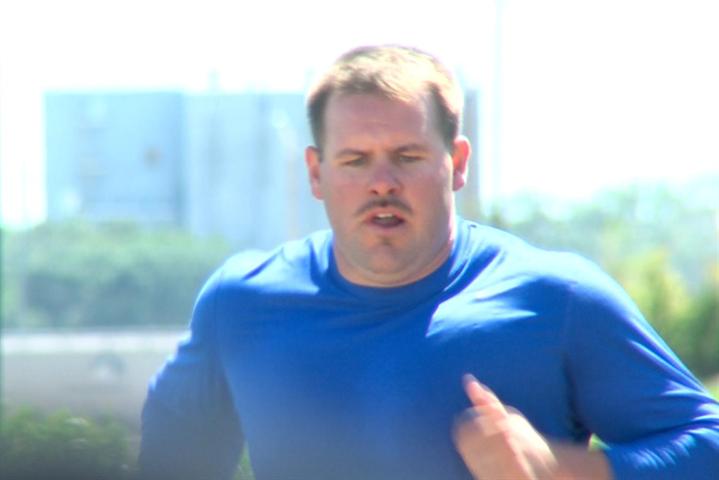 Decatur -- He doesn't have the name recognition of Tom Brady, Peyton Manning, or even his former teammate, Steven Jackson.
In Decatur, though, he's a bona fide NFL star. He just doesn't have a team right now.
Brit Miller -- a graduate of Eisenhower High School -- is working to get back into the pro game he's been a part of for four years, watching from afar, as NFL training camps begin this week.
"You're not out on the streets by any means, but you want that comradery in the locker room," said Miller, who was signed as an undrafted free agent by the Carolina Panthers in 2009.
A linebacker in his time at Illinois, Miller has enjoyed a pro career as a special teams player, and a fullback -- for which there's not much room on a roster. Carolina waived him before training camp in 2009, after which he debuted with the San Francisco 49ers, but spent most of the last three seasons with the St. Louis Rams. He was released by the Rams last November.
"I've got a lot of texts, even from coaches that say 'it ain't the same without you'", said Miller. "That's good and bad. It makes you feel wanted, it makes you feel missed, but at the same time, you're not there."
Instead his gym is the same one he was coming to as a 13-year-old. The Decatur Memorial Hospital Sports Enhancement Center doesn't have all the bells and whistles of NFL facilities -- Miller says all that's really missing is a cold tub -- but it's got more than enough of what he needs.
"I know somebody else is going to these fancy places, and they get the credibility from going there, but I say you've got to train like a dog to be a dog, and that's what we're doing here," Miller said.
However, he's not alone in this quest to revive his pro career. He meets a few days a week with a group that calls themselves the Ape Fitness Crew (search #ApeFitness on Twitter). It's a compilation of a number of locally-tied athletes, who are looking for quite a bit more than your basic workout.
There's Quartus Stitt, a former runningback from Argenta. He's now training for his next MMA fight.
Mark Yelovich is Mt. Zion grad who played college basketball at SIU-Edwardsville. In a few weeks, he's heading overseas to test his game in the foreign professional leagues.
There are two St. Teresa graduates -- Cameron Hall (football) and Brennan McElroy (basketball) -- who are both training for their upcoming college seasons.
"We've got a couple of young guys here," said Miller. "Logan Long, out there at Central A&M. He's trying to work for a scholarship."
They're hours-long, high-intensity workouts, drawn from Miller's experience in college, the NFL, and preparations for his pro day and the NFL Combine.
"It's good that we have such a great group here for me," Miller said. "It kind of puts my mind at ease that we're working hard enough."
As if training -- and self-motivating -- for the NFL wasn't enough of a full-time job, Miller has filled up his summer with plenty of life-changes.
He got married earlier this month, after which he honeymooned with his wife Emily in Jamaica -- he boasts about swimming with the dolphins, and holding at 8-foot shark.
He hosted his 2nd charity golf outing, the first under the name of his and his wife's Leading the Way Fund. Proceeds went to support MacArthur, Eisenhower, and St. Teresa football programs.
If that wasn't enough, he also sponsored a blood drive in the spring.
"There's been stuff to keep me busy," Miller said, "but at the same time, there's nothing like going to a football camp and preparing mentally for something like that."
So for now, the preparation is all physical -- high-speed running, explosive lifts and drills, and loads of conditioning.
He's letting his agent deal with the business side of things.
"We look at stuff like the injury reports, failed physicals, because there are a lot of things that can go wrong in the offseason for these teams. The fact that I'm a fullback doesn't really discourage me, because you only need one. It only takes one to go down."
"I just got a text from my agent, right before we started this interview," he said this week. "It's three texts long, saying he's reached out to every team."
Miller figures it's only a matter of time.
"If you think you're doing the right things, you've got believe in it, and just keep going."