Health officials encourage back-to-school vaccinations
Posted: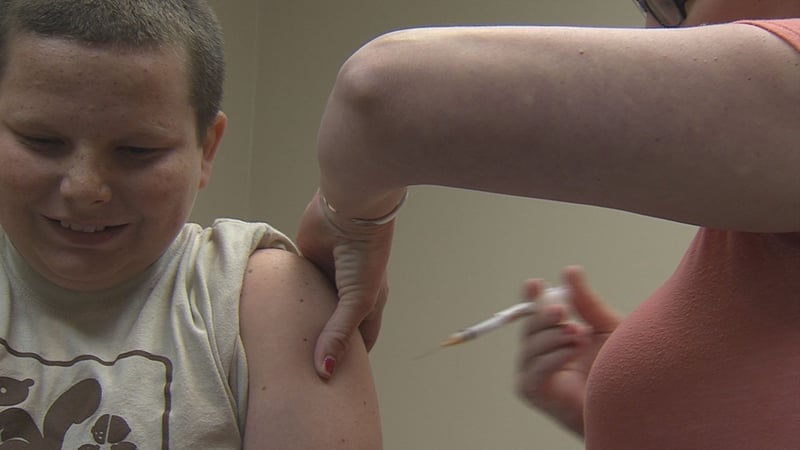 DECATUR -- Last year nearly 500 Decatur Public Schools students were denied attendance to school because they weren't up to date on required immunizations.
That's why public health officials are encouraging families to schedule their child's shots now.
On Wednesday the Macon County Health Department was packed with families getting shots and vaccinations.
The Health Department extended its walk-in clinic hours to fit the high immunization need before school starts.
The deadline for required immunizations isn't until October 15th, but Decatur Public Schools is encouraging all parents to get their students' shots as soon as possible.
"We encourage all parents to make appointments early, so there are not long waiting lines and they will have all their health requirements completed before the deadline," said Terri Luckenbill, DPS Health Coordinator.
State law requires all pre-kindergarten, kindergarten, 6th and 9th graders to be up-to-date on their vaccinations. A new requirement this year mandates all 6th through 12th grade students to have T-dap vaccine.
Freshmen go back to class August 5th. The rest of the school district's first day is August 14th.
Here is the schedule of Decatur Public School's free and reduced clinics:
@
School Physicals and Immunizations are due October 15, for Pre-K, K, 6th and 9th grade students. Students are not allowed to attend school without completed health requirements.
SPORTS PHYSICALS
· Monday, August 5th
Orthopaedic Specialists, 304 W Hay St. Suite 218
2-6pm
This is the only location that a Medical Card will be accepted for sports physicals or $25 cash or check
· Wednesday, August 7th
MHS 1-4pm
$25 cash or check
· Monday, August 12th
EHS 4-6pm
$25 cash or check
FREE SCHOOL PHYSICALS
· Saturday, August 10th
First Christian Church, 3550 N. MacArthur Rd.
9-2pm
Immunizations available on that date at the Macon County Health Dept. from 10-2pm
· Saturday, August 17th
Antioch Baptist Church, 530 West Mound Rd.
9-1pm
Immunizations available on that date at the Macon County Health Dept. from 10-2pm
- All physicals performed by DMH medical and sports medicine staff