State fair begins
Posted: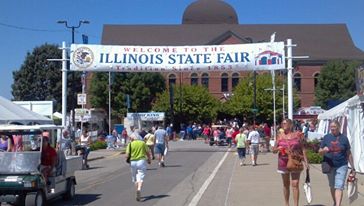 SPRINGFIELD, Ill. -- WAND News helped kick off the 161st Illinois State Fair by taking part in the parade. Hundreds of thousands of visitors are expected to attend the 10-day event.

The Twilight Parade started at 6 p.m. at the intersections of 9th Street and North Grand Avenue. The parade traveled along 9th Street and Peoria Road into the fairgrounds.
As you make plans to head out to the fair, the American Red Cross is encouraging you to follow the following precautions:

Dress for the fair. Wear comfortable shoes, lightweight, light-colored clothing and sunscreen.
Prepare before you go. Watch the weather report before heading out and make sure that you drink plenty of water to stay hydrated.
Know how to get out. Look for the exit signs as you enter the fairgrounds. It takes only seconds—and those seconds could turn out to be the best you ever spent.
Find a meeting spot. Arrange a place to meet your family or friends in case you get separated.
Always follow the safety guidelines for rides. Wear safety belts, use handrails and never get off a moving ride, wait until it comes to a full stop. If a ride stops due to a mechanical or safety concern, stay seated and wait for instructions.
Parents – pay special attention to your children. If they are too tired or scared to go on a certain ride, avoid it - they may ignore the safety rules or try to get off while it's moving.
Be smart when it comes to drinking alcohol. It can quickly dehydrate a person during a warm day and impairs your judgment.
In case a first aid emergency does happen, the Red Cross will have a first aid station at the fair - located in the Emmerson Building Annex, across the street from the Dairy Building on the fairgrounds. The station will be manned by Red Cross First Aid certified volunteers and will provide basic first aid services to the public free-of-charge from 8 a.m. to 10 p.m. daily, August 8 – 18.

The fair's music series lineup includes performances by country stars Toby Keith and Kip Moore, pop artist Ke$ha, rock musician John Mayer and the band Journey. The grandstand will also be the site of harness racing and auto racing on some days.

Admission to the fair is $7 for adults, $3 for children, with free admission for seniors and veterans on special days.
For more information at your fingertips, you can access the State Fair's mobile web page on your smart phone anytime:
Go to isfmobile.info