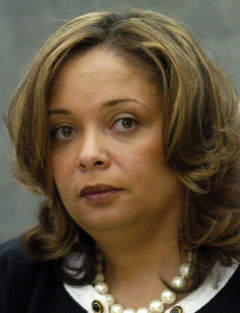 Springfield - A three year federal crackdown on public corruption nets a 13th defendant allegedly involved in state grant and contract fraud.
Quinshaunta Golden, the former chief of staff at the Illinois Department of Public Health, is accused of pocketing nearly $433,000 in a bribery - kickback scheme. She is charged in the federal indictment with bribery, theft involving federal funds, mail fraud, witness tampering and obstructing justice.
"Public corruption makes my blood boil," U.S. Attorney Jim Lewis told WAND News. "I think this victimizes every single person who contributes tax money. And who is a citizen."
"She was more concerned about lining her own pockets and those of her associates," added Tony Gomez of the U.S. Postal Inspection Service.
Golden will appear in federal court in Springfield on August 23rd. Of the 13 defendants, 5 have pled guilty, while the remaining 8 await trial.