Farm Progress Show Preview
Posted: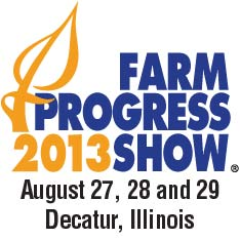 Decatur - It's the Super Bowl or farm trade shows and Progress City is ready to go for next weeks Farm Progress Show.
"It's kind of like having a baseball team," Farm Progress Operations Manager Mark Lovig told WAND News. "All of the people that come in know their positions. They come in and do it. And I'm just kind of keeping everything oiled."
Tents and buildings are being readied for the show that runs Tuesday, Wednesday & Thursday of next week. Millions of dollars of farm equipment is being moved into place. 600 exhibitors are expected to be on hand.
"They're the ones coming in and staying the in hotel rooms, eating in the restaurants, buying things at the hardware stores to put these exhibits together," said National Events Manager Matt Jungmann.
The farm progress show has had to cancel harvest demonstrations due to the mild & wet summer weather. Corn has not matured at this point for the field demonstrations to take place. However, dealers will be provided a space to show of their new equipment and show it in action.
There will also be a big international presence this year according to Jungmann, "We're already at 37 countries represented in visitor registrations which is already a record in terms of international presence we're going to have."
The Farm Progress Show in Decatur is the largest farm trade show in the nation.