7-30-13

***If you want to read my blog post about Infertility and the struggles I went through, click here.
(Our NICU home. The nurses have decorated the windows of P & P's apartment with milestone pictures!)

5 weeks down, several more to go! When the babies first arrived in the NICU, doctors reminded us that it will be a roller coaster. Some days will be great, others will test our faith. They also said that we need to look at the big picture. As we stare at them every day through the incubator, we don't notice much growth. But if step back and look at the big picture, we can see many changes over the last several weeks. Lots of you have mentioned how big they are getting. Well, looks can be deceiving! They are definitely growing. Mr. Skry and I notice their heads getting bigger and their hands and feet are larger. But, pictures make them look much bigger. Parker is still only 1 lb 9 oz. Because of his surgery and some complications, he hasn't been on feedings. Peyton, on the other hand, looks like a giant! She's hovering around 2 lbs, which seems SO big until we see the other babies in the NICU.
(Peyton sporting some new headband accessories)

Since they can't wear clothes at the moment, Grandma Skrysak (aka my mom) made them some custom accessories. You really can't find headbands to fit their tiny heads, so she went to town sewing. Some of the flowers look as big as Peyton's head! And as for the cute chunky rolls on her-- she was swollen from fluids, so she'll shrink back down in the next day or so.
(Parker gearing up for college football--Go Ducks!)

And since Peyton had headbands, my mom couldn't leave out Parker. She made him an Oregon Ducks "sweatband". We're a month away from football season and I have a feeling that Parker is the smallest Oregon Ducks fan out there (and probably one of the cutest)! If you have ever seen me on tv, I have a huge Oregon "O" on my desk. I graduated from University of Oregon and I'm a diehard Ducks fan. So of course, our kids will be too! Now if I could just find a preemie cheerleader outfit for Peyton...
(Two of my best friends meeting P & P)

This past week has been a good one for both the babies and my family. Two of my oldest and best friends from my childhood took time out of their busy lives and made the trek out to Springfield from San Diego. Caroline and Marcy wanted to show their support for Ryan and I, plus get to meet P & P. I knew it would be an emotional weekend. I haven't been out much and haven't talked to many friends since I delivered, it's just my way of healing and grieving. But there is something about your oldest friends. I didn't have to entertain them, or even say a word. I could just sit on my couch and cry and they were there to remind me that I'll get through this difficult time. We shared many laughs reminiscing over the decades we've known each other and we also shed some tears as I shared my memories of Abby and her little mementos from the hospital. This past weekend was just what the doctor ordered. While they forced me to take naps and rest, the two of them were busy grocery shopping and cooking. They even gave me the courage to venture out. We made it to my favorite breakfast diner, Charlie Parkers, which was a huge hurdle for me since the entire staff knows Mr. Skry and I. We knew I'd cry, but it was fun to show all of them pictures of our babies.
We also tackled this massive pile of boxes. While my coworkers dropped by the hospital when I couldn't make it to my first baby shower, I missed out on two other virtual and long distance showers that were planned for the triplets. Ever since I started having complications back in May, we put the nursery on hold. I had decided to stop shopping for the trio until July, but we never made it to that date. I knew opening presents would be heartbreaking. Most everything we registered for were in three's. So, my girlfriends helped me through the presents. Surprisingly, it turned into a fun activity. Of course there were some tears, but opening all of the gifts made me feel like I'm a parent. You see, Ryan and I have talked about how it hasn't sunk in for us that were are mom and dad. We can barely hold and touch our children. My sleepless night are because I'm waking up to pump, not cradle my babies. Some days are so tough to see other NICU parents feeding and playing with their babies. But opening presents gave me hope. We haven't thought about the nursery since I gave birth and this put it back into my mind. We're still cautiously optimistic, but we're hopeful that P & P will continue to make it past every hurdle and we can start thinking about bringing them home later this year.
(Adorable handmade hats for the babies, thanks to viewer Katie)

One more thing before I sign off. I've mentioned it several times--The support we've received from people across the country has been amazing. I've received cards from viewers and messages from people I haven't talked to in decades. It makes me realize how many good people are in this world. I wanted to share a package that was sent from a viewer. Katie knit these adorable hats from Parker and Peyton. They fit perfectly!
(Parker getting a yawn in while sporting his Oregon Ducks knit hat)

The cuteness is unbearable! She noticed that I was an Oregon Ducks fan and even made a green and yellow football hat for Parker. I don't think he wants to ever take it off!!...or maybe that's just mom talking. A lot of you have wondered when I'll be back to work. I honestly thought that I would be ready to go back by now, but it's a complicated answer. I'm sure my bosses would love to know! Just know that I need time and I will be back...that's a promise! I'll tackle that question next week in my blog, but now it's time to head back to the hospital and stare at my beautiful little miracles.

---
7-23-13
Hard to believe a month has passed by since I gave birth to the triplets. Peyton and Parker are 30 days old! Looking back, we never thought this day would come. After Abby passed away due to an infection, I remember asking my doctor if she thought there was any chance of the other two surviving. She shook her head no. None of us that they would survive. It was a terrible feeling giving birth and assuming that I would have no children to bring home. Boy what a difference a month makes. Because I was so sick, I had no idea that Peyton and Parker survived the first night, then the next night. Babies that age have a less than a 30% chance of survival. Well, we already know they are miracles and we like to think they have their sister Abby helping them through each day. As I mentioned before, we believe she saved their lives. But Abby really also saved mine. If Abby didn't come out when she did, my fate could have been grave. Here are some adorable pictures taken by the NICU nurses (Mindy and Missy).
Peyton at one month
Parker at one month
The footprints of our triplets the day they were born.

The nurses really are amazing. I'll save my gushing for another post in the coming weeks, but I have to say they make our experience so much better. Not only do they care about the babies they are looking after, but they truly care about the well being of Ryan and I. We've gotten to know many of them over the weeks and I'm sure they will feel like family by the time we head home. The nurses call Peyton either Diva or Princess, depending on how she is behaving. Check out Peyton's "Princess Tiara" compliments of Nurse Shelly. Even on their days off, they are thinking of our children and finding cute little accessories--SO sweet!
And because we can't leave Parker out, Nurse Carolyn decided he should celebrate his one month with a bow tie. It's not even two inches in length, yet it takes up his body! Some of the nurses think he looks like Mr. Skry. What do you think? I can't tell because they were whisked away right after birth, so I've never seen them without tubes and wires covering their faces.
As for me, the month has been a roller coaster. Not just emotionally, but physically. By the time I delivered, I was beyond the size of a full term single pregnancy. What a difference a few weeks makes. I still am carrying around a little extra belly, but those triplets took up most of my stomach.

I had Ryan take this picture of me in the same outfit as my last belly pic. The picture was taken at 22 weeks, about a week before I delivered. And the other side is me at one month post partum. It's tough to look at this picture without crying. I was so uncomfortable at the end of my pregnancy, but I would take that in a heartbeat over not being pregnant. I see so many pregnant women when I visit the hospital and I have to admit that I get jealous. I should be 27 weeks along today and I would give anything to still be waddling from bed rest to the bathroom. I miss the pregnancy glow. Now I look in the mirror and on the tough days I see exhaustion and puffy eyes from grieving. I long for those moments in the day where I would feel my babies moving. I miss the daily ultrasounds where we could see Abby kicking her brother or Parker shoving Peyton. We had gotten to the point where my ultrasounds looked like a "bucket of bones".. you couldn't tell which arm or leg belonged to which child. I miss those moments where eating a piece of chocolate would turn into a domino effect. Parker would start moving, followed by Abby and then Peyton. My belly looked like it was doing the wave. I had several weeks of movement, I just hope that memory doesn't fade away. Every ultrasound I could see Abby moving around like nothing was wrong, her heart beating perfectly. It's something I hope I will remember forever, since we only got 2 hours with her here before she became an angel.
Ryan holding Abby, 15 hours after I went into labor. She was smaller than her identical sister at 1 lb 3oz... So tiny in Ryan's arms.

I've had a lot of people asking me when we'll get to take them home. A lot of people assume it is just a matter of weeks. While many nicu babies head home quickly after birth, ours will be there for the long run. We're thrilled P & P have made it a month, but we know that anything can happened. I'm finally getting to the point where I truly believe we'll be bringing two children home from the hospital, but we are staying cautiously optimistic. They are still extremely young and face an uphill battle of possible medical complications. If they survive, they could easily be spending another 4-5 months in the hospital. Mr. Skry and I just hope we get to take them home in time for the holidays. They are still under 2 pounds a piece and pictures don't do their size justice.
Here's a look at the diapers they wear compared to my phone and a normal newborn diaper. The one in the middle is still too big for them. Nurses will fold over the diaper to make it fit.
Here is Peyton's hand around Ryan's finger. Yes, that's a bare chest-- it was special daddy daughter time or as nurses call it "kangaroo care".
Here's my finger with Parker's hand. He's still lagging behind his sister, barely a pound and a half. But he seems to be getting stronger by the day. After last week's surgery, we're hoping both of our babies will have a quiet and uneventful week. Every time the phone rings, I panic. I wonder if it's the nicu calling with bad news. We could use a week of healthy growth and no complications! Thanks for all of the well wishes. I love sharing our pictures with you and love reading everyone's comments.
---
7-17-13

Another week, another roller coaster ride for me and Mr. Skry. Peyton and Parker are 3 weeks old, but only 26 weeks gestation. That means, if I was still pregnant, I would be at 26 weeks (a normal pregnancy can last 40 weeks). Their life in the NICU can be quiet one moment, then chaotic the next. And that's what happened on Monday. Parker was having a decent few days, but an x-ray came back showing some problems in his intestines. Doctors ended up doing surgery and it was the longest 2 hours of my life! Here's a picture of Parker pre surgery--he was not a happy camper.
Doctors found several holes in his intestines and tried to repair them. Ryan and I were in the NICU waiting room for two hours. I now know what it was like for Ryan every time I've had surgery. The first half hour was fine, but each minute after, my heart would race a little faster. Parker is only 1 lb 4 oz. It's hard to know if his body can handle being put under anesthesia and going through a big surgery. But he survived and is recovering (luckily with some pain meds!). They brought one of the holes to the surface and he's now living with part of his organ on his abdomen. Doctors will let him heal and then in 6 weeks, they'll try to reattach it and put it back inside. I'm truly amazed by modern medicine. I remember a nurse telling me that 10-20 years ago, a baby born at 23 weeks had no chance of survival. I'm so thankful that doctors and surgeons can do much more these days.
Peyton finally decided to join her brother and see the world. She loves to open her eyes, but is much more camera shy! Every time I try to take a picture, she shuts them...hence the winking picture I took. Nurses have nicknamed Peyton "Princess" and "Diva"..and she's living up to her title. She has heart problems and medication didn't do the trick. She may eventually need surgery, but she needs to gain a little more weight. She's about 1 lb 7-8oz and she looks double the size of Parker. Those couple of ounces sure do make a difference! You can tell P & P are siblings. As their personalities begin to shine through, there are little mannerisms that they do the same.
(Peyton at 3 weeks old)
(Parker at 3 weeks old)

See their hands? I think we're going to have thumb suckers. They both try to tug at their breathing tubes. That little thing in Parker's mouth is a miniature pacifier. The nurse cut it down so it would fit his face.
As for me, I'm feeling pretty good. I feel like I should be back to normal after three weeks, but my husband and the nurses keep reminding me how much I went through. I had a blood transfusion when I was very sick, so I still get tired even doing little things (plus I was on bed rest for months). I'm trying to venture out more, but the two NICU visits a day are more than enough for now.

A lot of you have sent me emails and I'm slowly getting through them and writing back. I sort of went into hiding for the last few weeks. Other than my family, I have barely talked to anyone else. It's my way of dealing with the pain and grief. I haven't wanted to venture out. People don't know how to act towards me, which is completely understandable. Do you say condolences or congratulations? We're in such an unusual situation. While P & P have helped us get through the grief, we still don't know their future. We hope they'll get to come home, but as I've said before, we're cautiously optimistic. Luckily, every passing day is a victory and gives them a little better chance of survival.

One more picture before I sign off. This is Parker with Ryan's hand on top. If you look at Parker's arm, you can see Ryan's wedding ring. That gives you a good picture of how tiny our babies really are. This was taken when he was a week old. At one point, he dipped down to 14 oz...not even a pound. A lot of people have asked if we get to hold our babies. It's a complicated answer. I walk around the NICU and get jealous of all of the babies that are 3+ pounds. They look SO big. While most other parents get to hold and rock their baby, we don't. Ours are too small and hooked up to so many wires and tubes. Our days are spent looking through the incubator glass and just staring at the little miracles we created. I don't get to feed my babies because they can barely tolerate anything. We don't get to rock our babies because they can be too unstable. Some days we get to hold them, but that means sitting still and giving them that "skin to skin" time. It takes an army of nurses to make that happen and some days they are too sick to hold. But we keep our chin up. Some days are tougher than others, but we just remind ourselves that we're lucky for every day we get to spend with them. While I would give anything to have gotten to hold Abby longer, we have two survivors that give us hope and make us believe in miracles.
---
7-8-13
I've been absent for a few weeks from the blogosphere. If you don't follow me on Facebook, I delivered the triplets two weeks ago on June 23rd. It wasn't supposed to happen that way. I wasn't even 23 weeks along, but my body had other plans. Early on that Sunday morning, Abigail was born at 4:48am. She lived for two hours, before passing away and becoming an angel. The other two managed to stay in me for 17 more hours. Sunday night, Abby's identical sister Peyton was born. Shortly after, brother Parker was born. P & P just celebrated two weeks in the NICU. I'll give you an update below, but first I want to share what my family has gone through and what it's like grieving publicly.
(Ryan and I holding Abby for her short time on earth)

Two weeks ago today, I woke up in the ICU. I had a half dozen IV's bruising my arms and oxygen tubes in my nose. I was scared. I remembered bits and pieces of the night before. I remember giving birth to the triplets and I remember the heartbreaking moment when we lost one of them. You see, I was extremely sick. An infection is what caused me to go into labor so early. Immediately after giving birth, the infection took over and I went into septic shock. Doctors whisked me back to the operating table and did everything they could to get rid of the infection. I remember getting to the ICU, where my family was waiting. I remember the doctor saying that because I'm young and healthy, I should survive. It wasn't until days later that I realized how close to death I really was. I look back now as I'm at home recovering and I think about my husband and my parents. As they sat in the waiting room already grieving over losing Abby, Ryan wondered if he would be a single dad to two surviving triplets. And I'm sure my parents wondered if they would lose a child the same day they lost a grandchild. It was a rough week in the hospital, but we managed to get through it. I've been at home since, taking it easy and trying to regain my energy from my illness and months of bed rest.
(Our precious little Abby)

A week ago today, we said goodbye to our little angel Abby. I can't explain the pain we are enduring, it's unlike anything I have ever experienced. The entire service felt like a dream. It was a surreal moment where I felt like I would wake up and still be pregnant…or at least hoped. It gave us the closure we needed, but it will be a long time until we can move on. As I've mentioned, we knew my pregnancy was high risk. There were a number of things that could go wrong, but after reaching the second trimester, I never thought losing a child would be one of them. Once I hit 18 weeks, I seemed to experience every major complication possible. But week after week, a miracle happened and I was still pregnant. That was until two weeks ago.
The grieving process is an usual one. There are good days and bad days. On the good days, I might only cry for a few minutes. I find myself laughing with friends over the phone and reminiscing over pregnancy cravings and the funny things our surviving triplets did in the NICU that day. On the bad days, I find myself crying at anything. A Starbucks drink because that's what Ryan brought me right as I started to go into labor. Hot tamales because that was my pregnancy craving the week before I delivered. On those bad days, my heart aches. Not a little pain you feel when someone breaks up with you. It's a deep sharp pain that causes me to grab my chest in terrible physical pain. That's usually followed by tears and the thought "why me"?
I know each day will get a little easier. And I know the more I talk about it, the easier it will get. I find myself wondering if it was a good idea to be so public with my pregnancy (though it would have been impossible to hide triplets on television!). Did I have to let people know I was having complications? Did I have to let people know our struggle with infertility? But looking back, I wouldn't change a thing. I know my story has helped others who have gone through similar situations. I received emails from people across the country telling me I'm an inspiration and that I give them hope for starting a family. My motto during my pregnancy has been, "God gives you only what you can handle". I have no idea why things happened the way they did and I know I'll question that for a long time. But maybe, just maybe, losing a child was meant to be so that I could share my story and help others going through their own loss. We know that Abby saved her brother and sister. She was in distress for so many weeks, but hung in there, giving time for her brother and sister to grow. I know we will never forget her and we're so thankful for the two hours we got to spend holding her. She was a fighting, kicking her way out into this world. She evened squeaked, trying her hardest to cry. So as we move forward, Ryan and I will use her strength as guidance…helping us get through the ups and downs of grieving and having two children in the NICU.
(Holding Parker for the first time)

Now onto a happier note--our surviving triplets. A few people have asked me if we now refer to them as "twins"? The short answer, no. They are always going to be our triplets. There were three of them the entire journey. Even though one isn't with us now, she's with us in spirit…and that's why I refer to Peyton and Parker as "surviving triplets", not twins. As for P & P, they are trucking along in the NICU. They both have their moments, but we've learned to ignore the constant beeps and alarms. The doctors and nurses know what they are doing and they are taking great care of our babies.
Parker opened his eyes last week! He's been wide awake ever since then. He's a bit tinier than Peyton, but he sure is feisty…always kicking and tugging at his wires.
Peyton is quite the princess in the NICU. The nurses have even given her tiny bows to wear! Check out Ryan changing his first ever diaper--his hands look bigger than Peyton. Most days we get to hold them, unless they are being difficult. And let me tell you, that hour a day makes the pain and grief go away. They are barely a pound each, yet they are so full of life. Thanks for all the prayers, keep them coming. We have an extremely long road ahead of us, but we're staying positive and cherishing every moment with our preemies.
---
6-14-13

Boy what a difference a week makes! I was just reading my post from last week and could never in a million years imagined the turn of events that unfolded. First of all, thank you for the continued support and prayers. I mention it often--we knew that this pregnancy would be a risky and difficult one. I just didn't think I would be thrown curve balls this early on. For those of you not aware, I'm in the hospital now on bed rest and I will be here until I deliver. So here's my 21 week picture, no dresses, just comfy clothes in the hospital!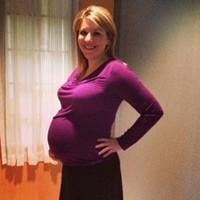 I'm not going to go into details about my health, but the babies are hanging in there. We had a scare a week ago and the doctor told us to head to the hospital to check things out. As I left our house, I had no idea that I wouldn't return home until after the babies arrive. I didn't even get to say goodbye to Riley! We honestly thought it was nothing big, but I was admitted right then and there. One of the babies is losing fluid, so they are keeping a very close eye on me and pumping me with antibiotics so that I won't get an infection. Otherwise, I'm doing good. I get daily ultrasounds and our new motto is "no change is good news".

Last weekend was supposed to be my baby shower. Several coworkers and friends worked SO hard to make a memorable day for me. While we couldn't do the shower at my house, some of the ladies came to the hospital and had a mini-shower for me. It really brightened my day and helped me take my mind off of the babies. My room is overflowing with diaper cakes and wreaths and plenty of flowers. I feel so loved!!! There was plenty of food and adorable gifts...I'm so lucky to have such wonderful friends. While most of my pictures are on my camera, here are a couple I was able to download. I'll post more once Mr. Skry has a chance to transfer the pictures. What do you think of Dawn and I? We sure are getting big! I hadn't seen her in weeks, so it was fun to compare bellies.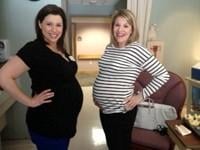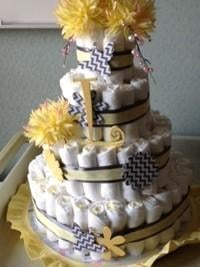 As for what happens next, we're just taking it day by day. This has truly been one of the hardest weeks of my life. I can't describe the ups and downs I've experienced, but reality really set. Ryan and I have been so positive and optimistic for the last 5 months. We feel like there is no use in looking at the downside of things, we just have to keep our chins up. But for the first time since I became pregnant, I realized that I might be leaving this hospital without three little babies. It's hard to fathom because I always just assumed things would be ok. But, it's out of our hands. We are doing everything possible on our end to keep those babies inside...now it's up to a higher power. Monday was a rough day. I spent it sobbing in my hospital bed, with my mother sobbing next to me. I looked at all of the gifts people had brought me...the matching blankets and onsies and nursery decor. And I made my mom take it all home. I couldn't bear to look at the gifts for three little babies, when their future is so uncertain. But by that night, we all decided no more wallowing. We hadn't sobbed like that during this whole process, so we were allowed just one day. We woke up Tuesday and were ready to fight on. And I have to share what an amazing husband I have. Ryan is my rock. He has seen me battle through so many health scares, I know he would trade places with me in a heartbeat. I'm so lucky to have him by my side, always smiling and reminding me that everything will be ok.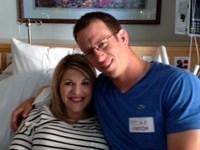 These babies have been such fighters for months. We have faced many hurdles and somehow we keep trucking along. Even our doctors are surprised and impressed! So we are taking each day as a celebration, another little hurdle in this massive challenge. A week from Monday the babies are considered "viable". That means they have a chance of surviving outside of the womb. Yes, we face an uphill battle. But we have to stay positive and believe that these babies will stay put for many more weeks before they decide to make an appearance. I believe they will be little miracles and years from now this challenging time in the hospital will be just a little blip in life. Thanks for your continued prayers...I know each one is making a difference because these babies will not give up!
---
6-6-13

Baby bump at 20 weeks! I have no idea how my belly keeps expanding...I definitely look 8-9 months pregnant, not 5+. The babies are looking great and are all about the same size, which is good. As for me, there has been no change in my body, but my doctor said no change is good news. It just means keeping with bed rest. And yes, I really did shower and get ready, just to take this weekly picture. I was back in sweats a few minutes later!

I'm alive and well, but boy do I feel out of the loop! I'm nearing 3 weeks of bed rest and have yet to go crazy. I think a big part of that is because of work. I'm actually typing from my work computer right now, just in the comfort of my own bed. If I didn't have work to do, I'm sure I would be pulling my hair out! There probably will come a point where I won't be able to work, but until then, I'm enjoying my sanity and sense of normalcy.
I posted this picture the other week, but wanted to share it again in case you missed it. These stuffed animals keep me company as I rest in bed. When my mom arrived two weeks ago, she brought a second suitcase. Ryan thought she was crazy packing so much, until we realized what was inside. These are my childhood stuffed animals, washed and cleaned and ready to pass on to my kids. As my mom pulled out each animal, tears rolled down face. We laughed over the funny memories, from Paddington Bear to Cabbage Patch dolls. The toys had been sitting for decades in storage. I'm so thankful that my parents hung onto them. We'll be building a shelf in the playroom, so they have a special place to make more memories.
I've been keeping fairly busy between work and doctors appointments. I get out of the house once a week to head to the hospital and then it's back upstairs to bed. I'm quite the sight! There is no point getting fully ready for the day, when you spend it in bed! Check out my sporty compression socks. I have to wear these to avoid getting blood clots.
Even visitors have witnessed my new and attractive "look" (aka: no makeup and knee high socks). Capitol reporter Ed Cross was so kind to stop by today and bring over some "pregnancy ice cream". I'll be digging into that once I wrap up this blog post! I have had so many coworkers and friends stop by to visit and bring over goodies. It truly does lift my spirits. My News Director even stopped by last week to bring boxes of cards, candy and gifts from the newsroom. It took me an hour to go through everything! It means so much to me that there are so many people looking after me and the babies
It looks to be a busy weekend for me... I'll heading downstairs to the couch on Saturday. My friends and coworkers planned a baby shower for me. Because of my bed rest, they were so sweet to move it from Decatur to my house in Springfield. Look forward to sharing pictures and updating you all next week!!
Connect with me:

E-mail Stacey: stacey.skrysak@wandtv.com

Stacey's Facebook

Stacey's Twitter