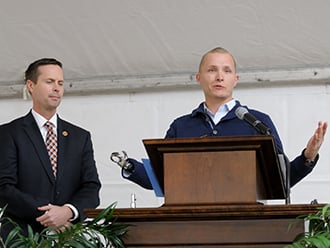 Urbana - The University of Illinois has broke ground on the new $14 million Center for Wounded Veterans.
The Center will provide residential and non-residential services to veterans who have been wounded or disabled. Those veterans can use the Center while obtaining their degree at Illinois.
Services include health and life management skills. Academic coaching, tutoring and adaptive learning.
The Center is being built with a combination of public and private money. The Chez Family Foundation is donating $6 million. The "Illinois Jobs Now!" capital funding program is contributing $4 million.
(Pictured are Congressman Rodney Davis and disabled Iraq veteran Garrett Anderson of Champaign).