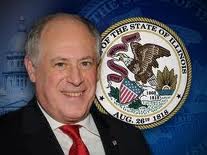 SPRINGFIELD, Ill. (AP) -- Governor Pat Quinn has said he wouldn't take a paycheck again until Illinois lawmakers passed a pension overhaul measure. Now that they have, Quinn is entitled to about $74,000. He stopped taking his pay over the summer when he vetoed money for lawmakers' salaries.
The governor used his line-item veto power this summer when he halted legislators' salaries, saying they shouldn't get paid until they addressed the nearly $100 billion pensions crisis. He also stopped accepting his own paychecks.

A judge disagreed with Quinn in September and the comptroller began issuing checks to lawmakers. But Quinn continued to refuse to accept his own salary.

Lawmakers approved the pension reform plan this week and sent the measure to Quinn Wednesday. The deal could save the state $160 billion over three decades.