I-TEAM: Feds Eye Potentially Deadly Rail Tankers
Posted: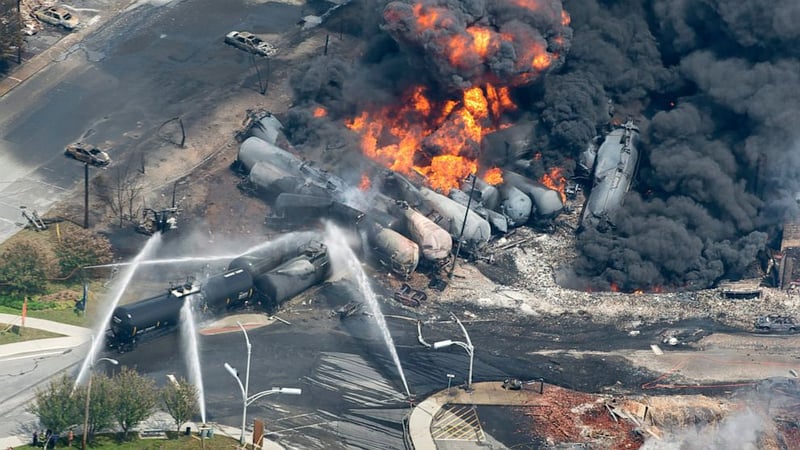 Decatur - Lawmakers, including Senator Dick Durbin, (D) Illinois, are calling for "swift action" to prevent potentially catastrophic spills of hazardous materials from railroad tank cars.
The Pipeline and Hazardous Materials Safety Administration (PHMSA) is currently reviewing comments on a new rule that would strengthen tank cars that carry hazardous materials, particularly ethanol and crude oil. The rule change comes on the heels of deadly rail car explosions in recent years.
In 2009, a train hauling ethanol in DOT 111 tankers derailed at a crossing in Cherry Valley, Illinois. The tankers were breached and exploded killing a Rockford woman.
In July 2013, DOT 111 tank cars were part of a train that derailed in Lac-Megantic, Quebec, Canada. 47 people perished when those tankers ruptured and exploded.
"It exploded, wiped out a town. Wiped out a town," Senator Durbin told the WAND News I-TEAM. "God forbid that ever happens again. And, I don't want it to happen in America."
The DOT 111, which has a thin outer shell, has been the target of five safety recommendation reports, from the NTSB dating back to 1991. In the report dealing with the Cherry Valley wreck the NTSB cited. "the inadequate design of the DOT 111 tank cars, which made the cars subject to damage and catastrophic loss of hazardous materials during the derailment."
In a 1991 NTSB report the DOT 111 cars were noted to carry hazardous material, "that can pose a substantial danger to life, property and the environment."
DOT 111 tank cars make up about 69% of all tank cars currently on the rails today. They travel through several central Illinois communities passing through neighborhoods and downtown areas.
"Every day that goes by it's kind of a ticking time bomb," Barrington Village President Karen Darch told the I-Team. Darch refers to DOT 111's as public enemy number one. "We feel there's too much foot dragging. PHMSA is taking too long to issue a rule and actually require the immediate removal of these dangerous DOT 111's."
New regulations will likely force retrofitting DOT 111's with safety devices. New tankers built since October 2011 are required to have an improved safety design.