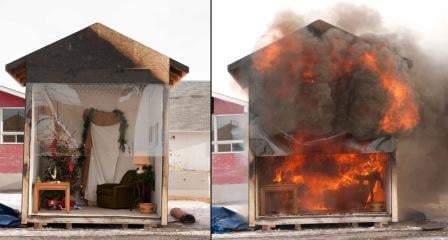 DECATUR -- If you see smoke coming from the far west side of Decatur, Thursday afternoon, don't be alarmed. The Decatur Fire Department plans a side-by-side fire burn demonstration.

It's to help Public Housing Authority maintenance and management personnel understand the importance of fire safety technology. Firefighters will conduct a live side-by-side fire and sprinkler demonstration.

The demonstration is an educational tool showing how normal flammable material found in a home, high-rise apartment or office, can cause a major fire. The demonstration also shows how a residential fire sprinkler effectively limits and controls those hazards.

The burn demonstration is planned for 3:30 p.m. Thursday, at the Decatur Conference Center and Hotel parking lot. It's part of part of the annual Illinois Association of Housing Authorities Maintenance & Management Clinic & Trade Show.