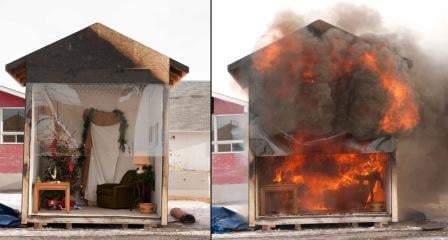 DECATUR - The City of Decatur Fire Department and the Assisted Housing Risk Management Association will conduct a live side-by-side fire and sprinkler demonstration on Thursday, April 24th, 2014. The demonstration is located at the Decatur Conference Center and Hotel at 3:30 p.m., and is part of the annual Illinois Association of Housing Authorities Maintenance and Management Clinic and Trade Show.

A side-by-side sprinkler demonstration is an educational tool showing how normal combustible material found in a home can cause a major fire, severe injury, and death. It also shows how a residential quick response fire sprinkler effectively limits and controls those hazards.

The demonstration will last approximately one hour, during which Decatur firefighters will set fire to two structures that simulate a typical home or environment. One will contain a fire sprinkler, and the other will not. Firefighters will remain on the scene throughout the entire demonstration.