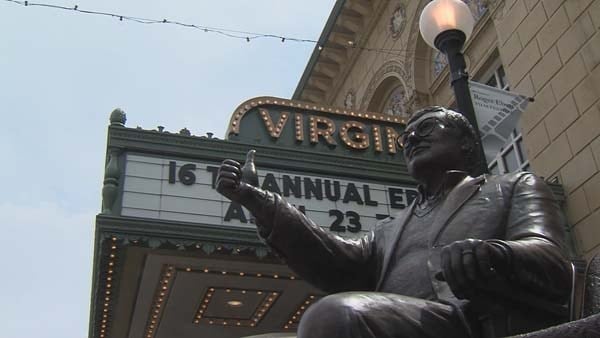 Champaign - One year after his death from cancer legendary film critic Roger Ebert has been honored with bronze statue outside of the the Virginia Theatre in Champaign.

"I think Roger would have been pleased. But I don't know because he was so modest," Ebert's widow Chaz told WAND News. "He didn't like much made of him. He would have been very happy at the thought behind it. Of the community doing it."

Ebert was famous for his thumbs up or down movie reviews. The statue depicts Ebert sitting between two empty movie seats giving a thumbs up. Movie goers snapped pictures of the statue throughout the afternoon.

Artist Rick Harney was so detailed in designing the statue he even included Ebert's wedding ring.

"That to me was important that I include that. And then, obviously, it meant something to her. I noticed she picked up on that right away," said Harney.

This is the 16th year of Ebertfest and it will run throughout the weekend. Ebert was 70 at the time of his death.