Evidence hearing Monday afternoon in Slover case
Posted: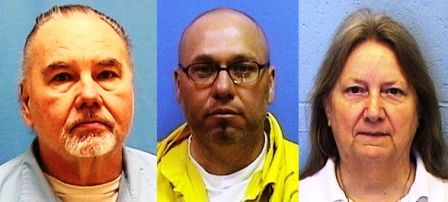 DECATUR -- In a hearing is Monday afternoon, lawyers for the Illinois Innocence Project argued that new testing should be done for three family members, convicted in the 1996 murder of Karyn Hearn Slover.

Michael Slover Jr., 43; Michael Slover Sr., 67; and Jeannette Slover, 66, were all convicted in 2002, six years after the murder. Fishermen discovered Karyn Slover's dismembered body, wrapped in plastic bags and sealed with duct tape in Lake Shelbyville in September 1996.

Karyn's ex-husband, and former mother- and father-in-law were all charged in 2000, and convicted in 2002 for first degree murder. Michael Slover Jr. and Sr. were sentenced to 65 years in prison each; Jeannette Slover was sentenced to 60 years.

The Downstate Innocence Project claims the three were wrongly convicted, and are pushing for a retrial. The Innocence Project says a latent fingerprint and other evidence needs to be tested with new technology.

The Macon County State's attorney presented evidence that has deteriorated over the years. In particular, he showed a torn evidence bag, one of the garbage bags which held Karyn Slover's body, poking out. A state forensic witness testified that any remaining DNA would be degraded.

The attorneys will submit their written closing statements over the next month. A judge will ultimately determine if the evidence can be re-tested.