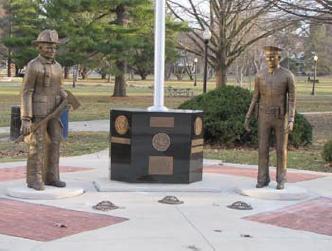 CHAMPAIGN -- A memorial to fallen firefighters and police officers will be dedicated Tuesday evening in Champaign.

The new Fire and Police Memorial replaces a previous one built in 1913 in Champaign's West Side Park.

The memorial is a tribute to Champaign firefighters and police officers who have sacrificed their lives in the line of duty. It honors two police officers, Officer Thomas Dodsworth shot in 1913 and Officer Robert Tatman shot in 1967, and one firefighter, Fireman Edward Hoffman caught in a house fire back draft in 1960.

The dedication ceremony is set for 6:00 p.m. Tuesday in the northeast corner of West Side Park.