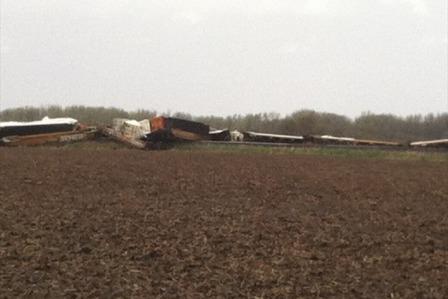 LAURA -- Strong winds caused a freight train to derail near Peoria, and minor storm damage was reported in other parts of the state.

The Peoria County Sheriff's Office says about two dozen double-stacked freight train cars were thrown off the rails near Laura, when winds topped 50 mph Monday afternoon. The cars were carrying household items. No one was injured.

Wind gusts also toppled a semi trailer near Minonk. Monday's storms downed power lines and tree limbs.

In southern Illinois, the storm broke a window on the campus of Southern Illinois University Edwardsville. Several classrooms were flooded.

The storms were part of a system that raked the central and southern U.S., spawning deadly tornadoes.