Champaign's fallen first responders honored with memorial
Posted: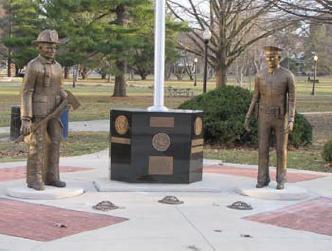 Champaign -- The idea to build a new memorial for Champaign's fallen first responders arose in 2007 and seven years later, the idea is reality.

Even though the weather moved Tuesday's Fire and Police Memorial dedication indoors, the structure will be at West Side Park for years to come, reminding those who pass by that firefighters and police officers put their lives on the like daily to keep the community safe.

Kathy Chubb knows what it feels like to lose a loved one in the line of duty. Her firefighter father Edward Hoffman died while responding to a call when she was only nine years old.

"As a kid you don't think your parents are going to die," said Chubb. "You think they are indestructible, but they are not."

But now, his memory is. At a brand new Fire and Police Memorial in Champaign's West Side Park. The structure was thought up by Connie Finney seven years ago, after she was unimpressed by the original.

"You couldn't even tell it was a memorial and that's kind of how the whole thing started," said Finney, a member of the Fire and Police Memorial Committee. "I sent out an email and said 'is anybody interested in helping?' and we had some people volunteer to be on a committee and we started collecting pennies."

As donations came in, the memorial committee got to work, and in 2010, a granite base with a flagpole was installed. Late in March of 2014, two bronze statues of a police officer and a fire fighter were added and the project was completed. The total cost came to about $97,000. Those who worked on the memorial say it's a small price to pay to show first responders how much they mean to the community.

"I hope they see how proud we are and how much we appreciate our firefighters and police officers," said Angela Devaney, another member of the committee. "And how important it is for us to remember the people that have fallen while they're keeping our neighborhoods safe."

Chubb hopes those who visit the memorial feel the same.

"The firemen and the policemen are dedicated to save them," said Chubb. "They'll risk their lives for them, they'll give their lives for them."

Something she knows well.

The committee raised about $100,000 total to fund the project, which leaves about $3,000 remaining. Members expect to use it on landscaping surrounding the structure.