Benefit to Raise Money for Baby Boy with Congenital Heart Disease
Posted: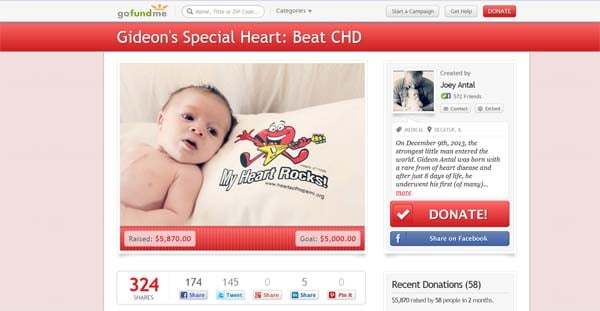 Four month old Gideon is a warrior. He lives with Congenital Heart Disease. Only one in one hundred children suffer from it.

"We were given these circumstances," said Gideon's mother, Mary. "Or the doctors were saying this is how it's going to be. And, you know, we're preparing ourselves for what the doctors say."

Doctors told Gideon's parents that his case was one of the more frightening they've seen. But instead of falling into fear, the couple prayed and believed that gideon would overcome. After a couple weeks, their prayers were answered.

"He was progressing and healing weeks before he was supposed to. He's growing at a bigger rate than what anybody could've imagined," said Gideon's Father, Joey.

Joey and Mary named there son gideon after the character in the bible. They believe the spirit of that story is what's keeping their gideon so strong.

"God told him I'm going to use you to save a country and he said you don't want me i'm too little.. i'm too small. You know, get one of my brother's there stronger than i am. And the angel said to gideon, the lord is with you mighty warrior."

Mighty warrior.. that's the name of the benefit be held in Gideon's honor. He has an open heart surgery scheduled for this summer. The Antal's need help raising money for Gideon's medical expenses.. but.. they also want to use his story to empower others.

"The question was never why us. You know, why is our kid sick. You know, why god. But it's.. who? Whose lives can we change. Whose lives can he change."

More details on the benefit for Gideon. It's happening tomorrow inside the First Church of the Nazarene in Decatur. There will be a luncheon and silent auction. It starts at 1:00 in the afternoon.