Central Illinois Sports Report with Elise Menaker: Balancing the Beauty and the Beast
Central Illinois Sports Report with Elise Menaker: Balancing the Beauty and the Beast
Posted: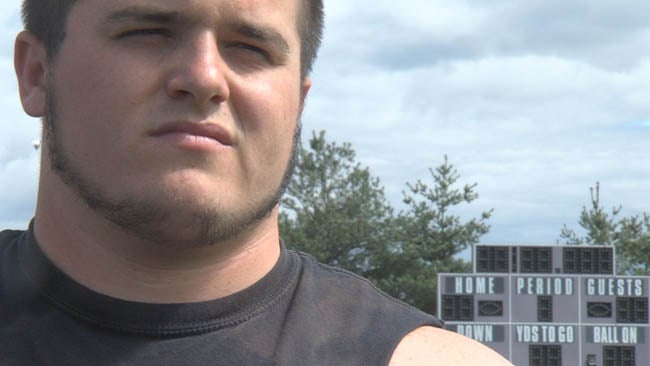 It's not uncommon for athletes to participate in multiple sports. It's a good cross-training technique, but how about seeing a big football player-wrestler showcasing his talents on another kind of stage? In this week's Central Illinois Sports Report meet Blake Hooper who's not shy to show off his singing and acting skills.

At 6 foot 1 inch, 256 pounds, Blake Hooper is big. He's strong.

"He's the strongest high school athlete I've ever had the opportunity to coach," said Lee Mateer assistant Football Coach and Former Head Wrestling Coach at Taylorville High School.

And he's athletic. The senior has played on varsity football since his sophomore year and was part of the first team to make the playoffs since 2008.

"Football as always been my first love," Hooper said.

The defensive tackle also wrestles. He made varsity as a freshman and this year he's just the fifth person in school history to qualify for state and the first person ever to win a medal, placing sixth.

"We've had wrestling here since 1968 and we have never had a person medal until this past year," Mateer said.

But don't let the tough exterior fool you.

"A lot of people look at me and think i'm an arrogant tough guy but really deep down inside i'm a loving, caring guy," Hooper described.

There's a side to Hooper you have to hear to believe.

"I was given the gift that i could sing also," Hooper said.

Since sophomore year hooper has been a part of Taylorville's theater program and last year auditioned for the part of Gaston in Beauty and the Beast.

"I didn't know what to expect from him to be honest with you," Keith Chase Director of Vocal Music. "When he came into audition, i didn't know what to expect. I didn't know if he could sing or not because i had just know him as a stage hand. And he really surprised us and had a great audition."

And got the part.

"He is that character," Chase said. "He is that big, tough, gruff guy and gaston was the perfect character for him."

"I really enjoyed singing because it taught me like not to be afraid and be able to express yourself really, express yourself in front of other people and really just tell people how you feel," Hooper explained.

It was his chance to showcase his hidden talents.

"My friends all really enjoyed that... like my friends were like, 'Hooper a singer?' they didn't really know that side of me," Hooper said with a laugh.

The play wasn't as much about being a star as it was a lesson in growing up.

"I was always taught that i'm always supposed to be a well-rounded person," he said. "You're never going to want to be that dumb jock that just plays sports. You always want to be involved in everything and anything that you can."

And like in sports, on stage, Hooper didn't fail to impress.

"He's one of those people that just kind of showed up and wow'ed every body," Chase described.

"I was pretty surprised, especially that guy can sing a little bit," Mateer said with a smile. "He's got some talent in there."

"I wanted to experience everything that the high school has to offer so I really enjoyed being able to do that," Hooper said.

And now with college approaching, Hooper is trading in the props for the football. Next year he'll be attending Illinois State University as a recruited walk on but he has fond memories to look back on.

"I encourage everybody to do a school play and wrestle and do a lot of things," Hooper said. "Do everything you can."

Because that's when you find the beauty and the beast.

And if football, wrestling and theater isn't enough, Hooper also plays trombone in the jazz band. He said it was hard balancing it all but he'd do it all over again. At ISU he plans on majoring in finance and intends to go to law school.