CI Sports Report with Elise Menaker: Autocross
CI Sports Report with Elise Menaker: Autocross
Posted: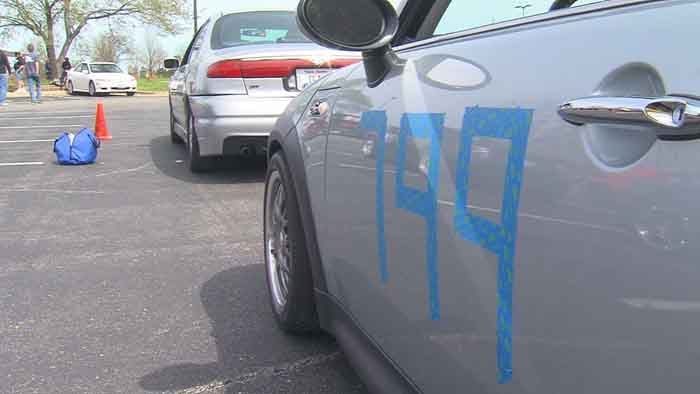 When you feel the need, the need for speed, your calling could be just one cone away.

"We set up a course out of cones and we drive around the course as quick as we can," explained Jacob Kruse a member of the Champaign County Sports Car Club.

"You're rivals but at the same time you're still family, so it's a great experience," said David Guimond, Board Member of the CCSCC.

And it's a competition. Autocross: Not for the fearful but for the risk takers, the car lovers, the want to try something newers.

"Some people are just scared to try it but i just challenge people to come out and try it and then make your opinion on it," Kruse said.

Made possible at one of the events put on by the CCSCC. Drivers of all kinds, ages are welcome to try it.

"You could have a purposeful race car or you can just drive your mom's car if she'll let you," Guimond explained.

The sport is all about smarts, having strategy, "you always want to know what's the next element," explained an event organizer.

"Patience is one of the things because if you're not patient and you drive too fast, you're going to miss a corner completely," Kruse described.

Knowing how you're going to approach each cone, each turn.

"You have to think a lot in autocross," Kruse said. "You always have to be on your toes, you have to know what line to take, you have to know when to break, when to accelerate, how much to turn the wheel."

Which WAND's Elise Menaker knows nothing about, but she does know it's worth a try. WAND's Noah Newman joins Elise in this, "It kind of feels like a driver's test on steroids." Noah said with a smile.

There's a lot to learn. They first walk through the course, get a lesson in safety and unlike in some sports, "you don't get hurt," Guimond said.

Just maybe Elise's pride, "this is either going to be awesome or the most embarrassing moment of my life and i hope it's not the second one," Elise said with a laugh.

But she was about to find out. Drivers get three runs. They have to follow the course, hit a cone and it's a two second penalty.

"They're agility courses," Kruse explained. "You're putting you car through paces some cars will never see in their lives."

Elise started. It took the first couple of runs to get used to the course, where to go, how fast.

"You'll progress and get faster and faster each time," Guimond said.

And so did Elise as my coach explains. Noah seemed to follow a similar strategy. Cars can reach up to 30 to 40 miles per hour on this course and handled in as quick as 30 seconds.

As for Noah, his third run, better than the last, but was it good enough?

"I think we should do it again," Noah said walking back from the course. "I finally got used it to it the third time.... but good job you beat me."

Elise finished the course in around 45 seconds, Noah, about 57 seconds, but while it's friendly banter and pedal to the metal, there's one common purpose.

"I do it for the fun of the sport," Kruse said.

"It's fun, it's a lot of fun," Guimond said.

So get ready for what seems like the drivers test on steroids.

CCSCC has events once or twice a month. Rantoul is the main course location but they will also be at other spots like Richland Community College later in the summer.