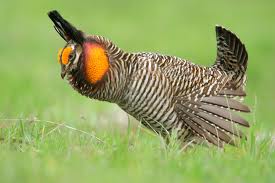 State Capitol - An Illinois wildlife agency has offered details on its $520,000 program to import prairie chickens from Kansas to Illinois using state executive aircraft.

An Illinois Department of Natural Resources spokesman said Friday that biologists took 16 flights during March and April to transport 91 birds to a habitat preserve near Effingham. The 16 flights cost a total of about $7,400. This is the first year of a three-year program that's largely funded by federal dollars.

But lawmakers say the costs are a huge waste of taxpayer money.

Republican state Rep. Bill Mitchell of Forsyth on Friday called the program "bizarre" and questioned the cost during a heated 10-hour House budget debate. Mitchell tells WAND News it's costing taxpayers $1,200 per bird to transport them on taxpayer financed aircraft.

State Representative Adam Brown, (R) Champaign, tells WAND News the state is spending "over $100,000 to bring the birds into Illinois."