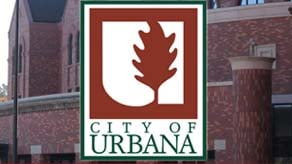 URBANA - An intersection in Urbana will be receiving a large makeover. The Goodwin Avenue and Green Street Intersection Improvement Project will start construction on Monday, May 19, 2014. The project will remove and replace existing traffic signals, sidewalk ramps, curbs, and street lighting on and around the intersection of Goodwin Avenue and Green Street. Pavement will also be resurfaced and restriped within the project's area.
Upon completion, the traffic signal will have a pedestrian scramble feature, which will allow pedestrians to safely cross the intersection from any direction while traffic is stopped on all sides.
Periodic lane closures can be expected during construction, however the intersection will remain open to traffic at all times. Pedestrian traffic will be limited to one side of the intersection to allow for the removal and replacement of curbs, sidewalk ramps, and traffic signal components.
The scheduled completion date for the project is Friday, August 15, 2014. For more information on this project, you can call (217) 384-2385 or visit the city's website at
http://urbanaillinois.us/projects/goodwin-avenue-and-green-street-intersection-improvements
.