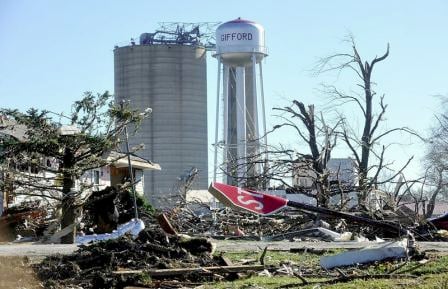 GIFFORD -- As the cleanup continues from November storms, Habitat for Humanity will make the home ownership dream a reality for three Gifford families.

Habitat for Humanity of Champaign County starts a two-week blitz build on Monday. Volunteers will build three new homes; Habitat will also manage storm damage repairs at five existing homes.

An EF3 tornado, with winds up to 140 miles per hour, ripped through Gifford in November. More than 60 homes were damaged or destroyed. Now six months later, the recovery continues.

If you'd like to volunteer for Habitat for Humanity's blitz build in Gifford, the group is hosting a kick off event Monday, June 2 at 8:30 a.m. at 207 E. Plumb Street. The three new homes are set to be complete for dedications June 13 and 14.