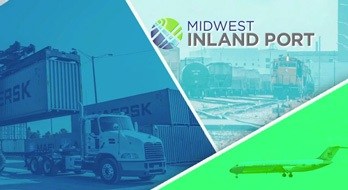 DECATUR -- The Midwest Inland Port in Decatur gets statewide recognition for spurring job growth and community investment.

The Illinois Chamber and Illinois Development Council gave ComEd's "Edie Awards" to six companies, including the port in Decatur.

"These are six examples of companies that are investing or re-investing in our state and creating jobs," said Doug Whitley, President and CEO of the Illinois Chamber of Commerce. "The Chamber is proud to be working with the IDC... recognizing the exciting developments that were completed across Illinois last year."

The Midwest Inland Port gives businesses statewide access to three railroads, five major interstates, an airport that can handle wide-body aircraft, and a qualified local work force. The Port also offers a brand-new intermodal container-freight shipping and handling facility.

Those options allow manufacturers, distributors, shipping companies and other businesses to get products to their destination more quickly.

The IDC says in September, Global Trade magazine ranked Decatur 25th among all U.S. cities for global trade, citing the Inland Port as the main factor.