Proposed pipeline causing controversy
Posted: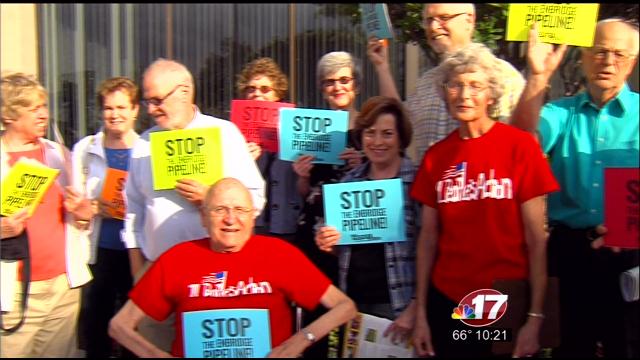 Decatur -- The company doing the digging on a more than 100-mile pipeline for crude oil expected to run through Central Illinois hosted an open house Wednesday evening, to address any questions or concerns residents have about the project.
Representatives from Enbridge say many of the people who showed up to the meeting seemed supportive of the proposed Southern Access Extension Project. However, there were some who questioned whether the company is doing enough to keep oil in the pipe, and not in the water.
It's a consistent fear across Central Illinois--the possibility of polluting our water.
"The worst case scenario is that the water quality is ruined by leaks," said Verlyn Rosenberger, a concerned Central Illinois resident who is also a member of Illinois People's Action. "We've talked about this regarding Clinton Landfill, we've talked about this regarding fracking, and we're talking about it regarding oil spills with the pipeline.
"
Because members of Illinois People's Action fear that history could repeat itself if the 167-mile pipeline gets the go ahead.
"There are actually thousands and thousands of pipeline leaks throughout this country because of all the buried pipelines," said George Virgil, a member of Illinois People's Action, and a former pipeline worker.
One of those leaks happened at a pipeline operated by Enbridge in Kalamazoo, Michigan. But representatives from the company say that experience motivated them to make some changes.
"We have a brand new control center in Edmonton [Canada] that controls all our functioning, processes different individuals in place, different groups in place to monitor all of the operations the pipeline is running," said Kevin O'Connor, a spokesperson for the company.
This calms some concerns.
"They do have a very good, sophisticated monitoring system," said Virgil.
But not all.
"I hope it's eliminated," said Rosenberger.
Enbridge is still waiting on some permits, but plans to begin construction this summer.