National Cancer Survivors Day Celebration in Decatur
Posted: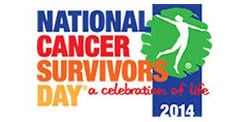 Hundreds of survivors, together in one room. Bob Jelkes sits among them happy to be alive. He was diagnosed with prostate cancer 17 year ago.

"My wife and I had talked about it and she said well we'll get through this," said Jelkes.

And they did. Bob is now cancer free. And celebrating it today, National Cancer Survivors Day, but not just for himself. He's also here to honor the fighters lost.

"I lost a real good friend because he didn't get checked," said Jelkes. He just told me he knew all about it, which he did. He did know all about it. He just didn't do anything about it. There's a difference."

17 years later, Bob is grateful for his journey.

"I'd say it's been one of the best things because I've been able to touch a lot of other men, and get the word out," Jelkes.

Helping others.. cancer survivor, Delores Luker has the same mission. A purpose she says she was destined to fulfill.

"I felt God has left me so I can help somebody else," said Luker. "And anybody that needs me, I'm willing to help."

Oncologist Harold Yoon says it's people like Bob and Delores that inspired his keynote address for tonight's gala, a message of hope to those still fighting and remembrance for those who are no longer with us.

"I think all of my patients are heroes," said Yoon. "They're courageous they're facing their disease. Every time they come to the cancer center and get their treatments, that's a courageous step. And so, that is very inspiring."

Creating a chain of empowerment.