CI Sports Report with Elise Menaker: Blind Bowling
CI Sports Report with Elise Menaker: Blind Bowling
Posted: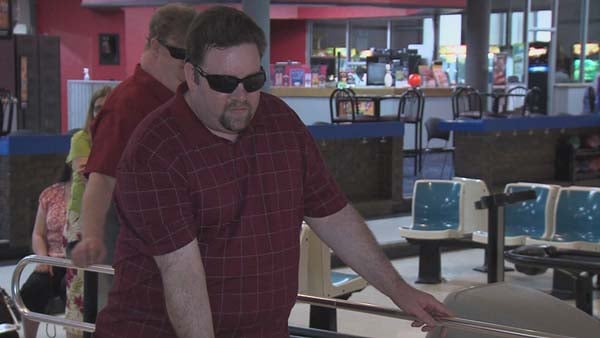 In this week's Central Illinois Sports Report WAND's Elise Menaker shows you bowling from another perspective. It's one you may never try or truly understand and it may not be easy but it's the only way some athletes know how to play.

In this case, people don't have to see it to believe it. The sense of touch and listening to your surroundings is all it takes.

"It's just that escape from every day dealing with your blindness," said blind bowler Jamie Grob.

Jim Pemberton, Larry Turnbull and Jamie all enjoy bowling together, none of them can see.

"At nine months of age i was diagnosed with what is essentially cancer of the retina," Jim said.

His eyes were replaced with prosthetics. As for Larry, "I lost my vision when I was 7 years old." And Jamie, "When I was 25 I went totally blind from bad cornea."

They tell a similar story in which sports, bowling, have been a part of. And just because they can't see doesn't mean they can't do it.

"My average is about a 79," Jamie said. "Ends up there about ever year. I can go anywhere from like a 70 to as high as 166."

The rules are the same but the technique may differ. To start, a guard rail guides bowlers to the lane.

"What's easy is nothing changes, your rail, me being a right-handed bowler, your rail will always be on your left," Jamie explained. "You only take so many steps. Like i can picture it in my mind... 1-2-3 release you can use all of those things."

A sited person let's the bowlers know which pins they have left. Then again sometimes just the sound is enough.

"You kind of have to focus on a little bit where you're throwing and kind of tune out the sounds around you a little bit because obviously you've got other people bowling on other lanes and that can distract you a little bit if you're paying too much attention to it," Jim said.

Listening to what's in front of you and not around you is key because when the moment comes, focusing leads to the sound of success, but success isn't always about the score.

"Helps you get out of your misery a little bit, helps you forget about some of the rough times, some of the rough stuff you got to do," Jamie said.

Battling blindness comes with challenges, of course, but maybe in ways people don't initially think.

"Bowling as a kid, for me it was a little bit of are people watching me?" Jim questioned. "Am I looking goofy doing this?"

The gentlemen still have hard times even today, but it's through sports they can learn to overcome them.

"Do not let people tell you you cannot do it," Larry said. "There are ways to do all kinds of sports."

So rather than spare a fun time, it's all about striking a good one with friends.

Jim said it would be helpful if there was technology like a talking score keeper or score board that would tell players how many pins are knocked down and which ones are left.