Homeless Struggle with Heat
Posted: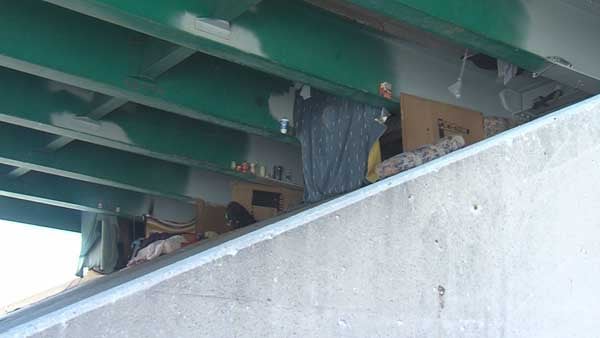 DECATUR -Getting out of the heat can be tough to do when you don't have a home. At the last count there were more than 300 homeless people living in Decatur. And for folks who live in these harsh elements it can be not only uncomfortable, but dangerous.
When you drive over the Franklin Street Bridge in Decatur, you might not realize people live underneath it.
"They're roughing it out there. They're staying outdoors in this 90 plus degree heat. Heatstroke, heart attack, you name it. They're suffering right now," says Salvation Army Shelter Director Jeff Mueller.
There's some shade and breeze, but the ragged curtains and bedding offer little shelter from the heat.
"They're living under bridges, in abandoned houses without air at this time, sometimes without the proper nourishment," says Mueller.
At the Salvation Army Shelter,they've just opened up cots for a cooling shelter.
"Last year, they held out for a day or two and then folks started coming in," Mueller says.
Jimmy Smith has been in the men's shelter a little while
"Leading up to April is when I was on the streets and it was pretty cold," Smith says.
He knows about extreme temperatures.
"You can die out there, from the heat or the cold," Smith says.
The Salvation Army helped him out.
"Next week I'll be in a house of my own,"Smith says. "So it's like going from the street living under a bridge where you could possibly die into a home of your own."
More details now on the Salvation Army's Hot Weather Shelter.
Starting Tuesday, they are helping 25 more homeless people with cots, pillows and blankets. They will also feed them dinner and breakfast.
These additional cots will be available until the weather cools down.
It costs the Salvation Army extra to run the cooling shelter. Anyone wishing to make a donation can mail a check to: The Salvation Army, PO Box 836, Decatur, Illinois 62525 or donate through the website--
www.sadecatur.org
. They're also looking for volunteers or donation s of toiletries, such as hand soap, deodorant, shampoo, toothpaste and tooth brushes.