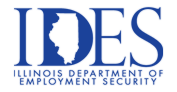 CHICAGO - Illinois' unemployment rate fell for the third consecutive month to 7.5 percent in May, according to the state Department of Employment Security.

Illinois still holds claim to one of the highest unemployment rates in the country, but the department notes the state's rate is now at its lowest point since November 2008. Department Director Jay Rowell refers to the results as "another month of encouraging data."

The unemployment rate for Illinois in April was 7.9 percent, while the national rate for May was 6.3 percent.

The total number of unemployed people in the state fell 4.6 percent in May to 492,400. However, that number only includes the unemployed that are still actively seeking work.