500 People Line Up for Mobile Food Bank in Jacksonville
Posted: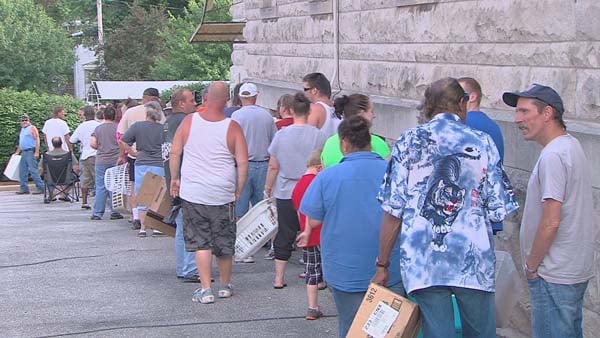 The number is shocking. More than 105,000 people in Central Illinois don't know where their next meal is coming from. 4,700 of them live in Morgan County. Like Pamala Hood. After hearing the Central Illinois Food Bank was coming to Jacksonville, she arrived 6 hours early to make sure she would get food before it ran out.

"When the mobile food pantry is here, you can just sort of just breathe and exhale, and say, hey, okay, I'm taken care of for a little while," said Hood.

She works for a school. So in the summer, money is tight.

"During the summer months schools out and everything so this really helps me out," said Hood. "Then that way I can save money for bills and stuff like that."

Jacksonville resident Robert Speanhower is in a similar situation.

"The money that I get ain't enough to make ends meet," said Speanhower. "I have $75 a month for groceries. So if it wasn't for Salivation Army, the mobile food bank.. I'd go hungry."

Of the 105 thousand people in Central Illinois unsure of their next meal, almost 40 thousand of them are children.

"We always think about it at thanksgiving time, and we think about it at christmas time, all those people that are hungry," Central Illinois Foodbank spokesperson, Katie Lisser. "But right now, in the summer, kids aren't in school. They're not getting the free lunch. They're not getting the free breakfast. And there is a great need."

It may be impossible to solve hunger. But thanks to this effort., more than 500 people now what they'll eat tomorrow.