Central Illinois Sports Report with Elise Menaker: Dirt Riders Inc.
Central Illinois Sports Report with Elise Menaker: Dirt Riders Inc.
Posted: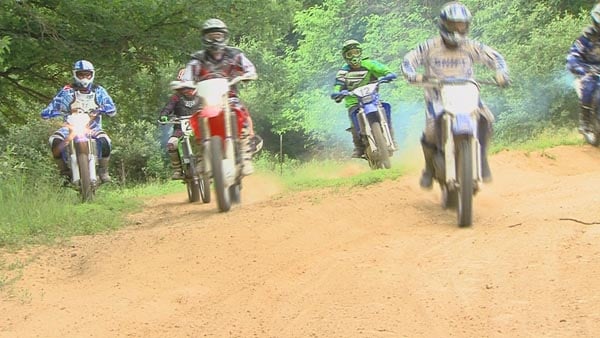 There's only a handful of sports you can play your whole life, like tennis, golf even dirt bike racing.

No matter how old or young, you can compete.

In fact, in this week's Central Illinois Sports Report two riders prove it.
Dirt Riders in Oakley, a private motorcycle club, it's been around since the '60's.

Today it has about 150 members, each one with different experiences, backgrounds and stories.

Steve Arteman's story starts like this.
"The first motorcycle ride I took was when I was about 7 years old and the first time I rode my own motorcycle was when I was 12," said the President of Dirt Riders Inc.
And even at 63 years young, riding has never gotten old.
"I can still compete in a race occasionally but I don't compete to win," Arteman said.

"I just enjoy riding.
It's not his age though that's been the hardest hill to climb... He's had bigger bumps in the road."
"18 broken ribs, broken shoulder blade two broken collar bones, broken right arm, this finger doesn't straighten out, broke this wrist six times, broke this wrist four times, dislocated this thumb, broke this thumb, had to have surgery on my right knee, knee surgery on my left knee, fused joint in the big toe of my left foot and i have a broken sternum… other than that, five concussions which lead to my epilepsy," he said.
Epilepsy, it's never held Arteman back.

It's never stopped him from riding.

Only one thing could do that.

"Out of everything at this point, my vision could be the thing that stops me from riding," he said.

"I've got glaucoma and cataracts in both eyes."
But what keeps Arteman coming back to the track has nothing to do with what he can see, it has everything to do with what he feels.
"It's a desire," he said.

"It's motivation...

It's a passion."
It's a passion that trickles down through the ages.

Take 9 year old Jadan Christensen.

She's hooked on the sport she's watched growing up.
"My dad, he's always been riding his dirt bike and I just got fascinated with how he does it," she said.

"My sister, she's doing it, too."
Still learning from dad, Jadan's already picked up a thing or two.
"Just have fun with it," she said.

"Don't be stressed out about it and worry about what's going to happen."
For a small girl she has big dreams.
"Well, I really want to be a professional," Christensen said.
So she has no intent on stopping anytime soon.

She said she wants to be riding into her sixties.

It's a story very similar to someone else she knows, neither tale nearing the end of the dirt road.
The organization has an event coming up Sunday at Dirt Riders in Oakley.

It's the third annual Wounded Warrior Project charity race.