Central Illinois Sports Report with Elise Menaker: US Open Qualifying Tournament
Central Illinois Sports Report with Elise Menaker: US Open Qualifying Tournament
Posted: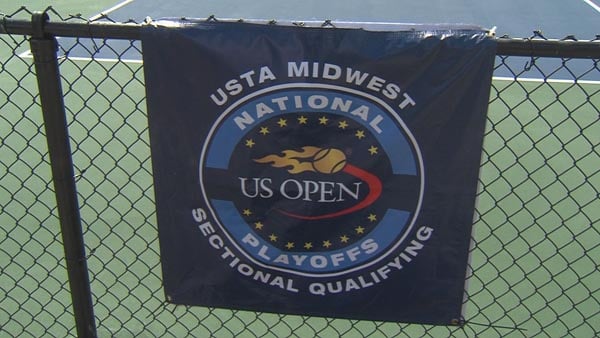 The impact a sporting event can have on a community, no matter how big or small can be everlasting.

This past weekend when the U.S. Open National Playoffs Midwest Qualifying tournament came to Decatur, it was not just a special event for tennis fans but something that's now a part of the city's history.
The sounds may be familiar but the site is nothing like you've seen before, not here.
"I grew up at Fairview Park so for me it's really cool just to have events here in town, just something I like to do," said tournament director Chuck Kuhle.
Decatur is one of just 13 cities to host the tournament.
"Minneapolis, Tallahassee, Scottsdale, Arizona -- they're all major metropolitan areas and for us to bring one to Decatur I think is a testament to our ability to run good, professional tournaments in this city," Kuhle explained.
He lead the effort to bring the competition to the town through a bidding process.
"The section decided to start moving it around from state to state to try to give players from other states an opportunity and I think that paid off because there's a lot more Illinois players in it this year than last year," Kuhle said.
In the past, it's been held in Cincinnati, but each year this premier event brings together some of the area's top talent.
"The quality of our draw is as good if not better than what they had last year," Kuhle said.

"We actually have a woman that is ranked 434 in the world."
And it may not just better but also the biggest tournament Decatur has ever hosted for women.
"I was excited," Kuhle expressed.

"It was something I always wanted to bring here to town especially because of the women.

I've always wanted to have a quality women's tournament."
And that's why WAND's Elise Menaker couldn't even pass up the opportunity.

The culmination of months of training with Kuhle and a lifetime of playing the sport, put to the test here.
"You got better," Kuhle said with a smile.

"You significantly got better.

No question and i'm not saying that to make that up."
Menaker won her first singles match, lost the second but having the chance to chase her dreams: that is the ultimate reward.

Because sports are about those opportunities, constantly pushing yourself to the limit.
"Since last year April, I've been playing full time," said women's singles winner Denise Muresan.
It is here dreams have a shot at becoming reality.
"It's just one step closer of getting toward my dream of playing in the U.S. Open," she said.
The journey is long and tough.

But through the sweat, blood and tears it's fulfilling a childhood dream that is the motivation for each individual.
"I mean that's been my dream since I was a little kid and I'm playing pro now and pursuing that so it's really exciting for me," Muresan said.
For a town, it's about capturing the love for a game and showing a community what it's all about.
"Just trying to bring in good players so some of the young kids can see the good players, maybe they'll inspire them to develop their tennis game," Kuhle said.
And while this is just one stop on the road to the big stage, it could be the start of a new tradition.
Singles players who won move on to Connecticut, the next qualifying round, and must win there and in a third round before making it to the US Open.

The next big tournament in Decatur is the Ursula Beck Pro Tennis Classic.

It's coming up next month.

That tournament is only for men.