Top Birds & Prairie Chickens Will Have Fewer Planes To Fly
Posted: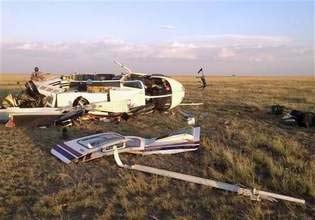 Forsyth – Taxpayer financed executive aircraft fly Illinois' top birds and wild chickens.
In the near future there will be fewer aircraft to fly either.
Governor Quinn has ordered nine of 21 aircraft to be grounded and sold to save the state money.
The Illinois Department of Central Management Services has been instructed by Quinn to sell seven from the Illinois Department of Transportation and two from the Illinois State Police.
The current annual budget for the entire fleet is $7 million.
Up 35% in the past 5 years.
State Representative Bill Mitchell tells WAND News it's a good start but he wants to see exactly which aircraft are being sold.
Mitchell says state employees can drive to and from Chicago, or take Amtrak, instead of flying.
"The state is spending millions each year on executive aircraft to fly the Governor and top leaders to Chicago and Springfield.
We found out this spring that state planes are being used to fly prairie chickens into Illinois.
These flights are a waste of taxpayer dollars and should be stopped altogether," Mitchell stated.
Flying prairie chickens from Kansas to Illinois became the subject of debate during the closing days of the spring legislative session in May.
Recently, Republican candidate for Governor Bruce Rauner, criticized the Quinn administration for wasting money by putting wild chickens on the states executive aircraft.
"Broke Illinois is flying them back in an executive aircraft.
Now that's the problem I have with that," said Mitchell referring to the chicken flights.
"I hate to say what I think they do to that aircraft."
Illinois lost a Bell helicopter last September when it crashed in New Mexico. The helicopter went down trying to avoid a large flock of birds.
(Photo Courtesy: New Mexico Dept. of Public Safety)