50th Anniversary Of The Civil Rights Act Of 1964
Posted: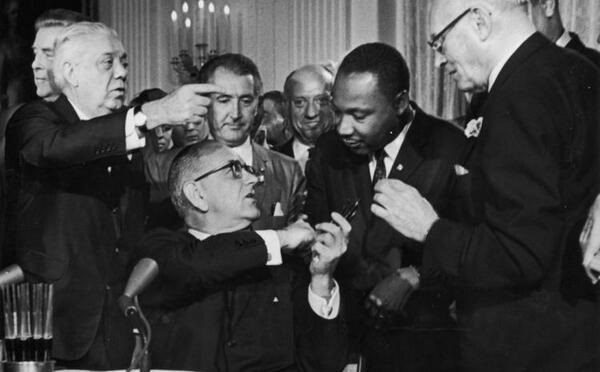 Decatur - July 2, 1964.
With civil rights leader Martin Luther King, Jr. standing behind him President Lyndon Johnson signed the Civil Rights Act of 1964 into law.
That was 50 years ago today.
"I was sitting on the couch with my father when it was signed," Evyonne Hawkins an Associate Professor of African American Studies at Richland Community College told WAND News.
"I remember my father, once it was signed, saying finally we get a chance to do what we want to do."
The act gave rights to blacks long denied to them by whites, especially in southern states like Alabama.
Blacks were frequently denied access to restaurants, movie theaters and other places of public accommodation.
Secretary of State Jessie White grew up in an integrated Illinois.
When he arrived at Alabama State for college he found he had to ride in the back of the bus.
"We had to drink water from separate water fountains and use separate wash rooms," White stated.
"And then schools were segregated.
President Johnson signed the landmark legislation less than a year after the assassination of President Kennedy.
Remarkable considering Johnson was from Texas.
"With him being a southerner I think a lot of people thought that perhaps he would not push that bill forward after Kennedy was assassinated and it became one of his top priorities," Hawkins said.
White House recordings show Johnson began working with Martin Luther King, Jr. within two days of Kennedy's death.
(Pictured: President Johnson with Martin Luther King, Jr. at the signing of the Civil Rights Act on July 2, 1964.)