Oakwood's Bobby Pierce Continues Dirt Track Success at 17-Years-Old
Posted: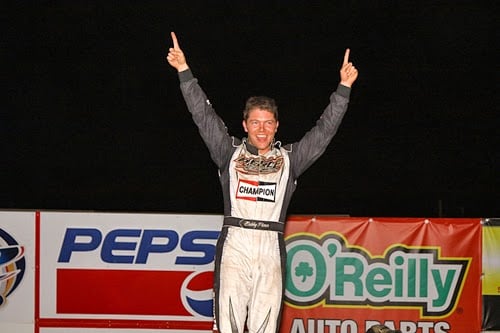 Oakwood -- He has the car, a fully-stocked garage, and the wins.

He also has one of the sport's best nicknames -- the Smooth Operator.

Oakwood's Bobby Pierce just doesn't have his high school diploma yet.

He's working on that.

"It will be my senior year coming up," said the 17-year-old Pierce, who turned to home-schooling when his busy racing career took off.

To say Pierce is a promising young dirt track racer would be a discredit to what he's already accomplished. He's ranked 5th in the DIRTcar Summer Nationals Standings, and finished 2nd as a 16-year-old in 2013.

In May, he won the richest prize in Macon Speedway history -- a $12,000 payday at the St. Louis U-Pic-A-Part 100.

"It was really cool for my dad," said Pierce. "It's definitely one of the best races, and most high-ranking races that I've won."

His dad is Bob Pierce, a man who's very familiar to central Illinois race fans. He has a career's worth of trophies and oversized checks in his shop, many of them earned in Macon, and a handful from the speedway's most popular event, the Herald and Review 100.

Even he watches in awe of his son.

"He's doing a lot of things that guys who are 25 and 30 -- who've raced ten years -- still can't do," said the elder Pierce.

The Pierce family has their business in Oakwood, where they have a store and build cars. Mostly, however, it appears their business is supporting Bobby, and business is booming.

He's on what's called the Hell Tour, a series of Summer Nationals races. As of July 1st, he had raced 42 times, with 23 top-5 finishes. That includes 12 wins, the most recent of which came on Tuesday night.

"We started in Florida, raced down there a couple of nights, then moved back up here," said Pierce, who's currently on a stretch of six races in six days. "It's just been kind of a roller coaster, up and down. You've got your good nights and bad nights."

As is the case in racing, the good and bad usually aren't too far apart. He was celebrating his win at Belle Clair Speedway in Belleville Tuesday night, but two days before, on Sunday evening Lincoln, his night ended upside down -- flipped and wrecked on the track. It was a setback that clearly didn't last too long.

Ups and downs are part of racing, but Pierce's success at such a young age isn't so common. In fact, small track dominance as a teenager has generally been reserved for drivers that have gone on to stellar NASCAR careers.

At the age of 18, Jeff Gordon was U.S. Auto Club Midget Car Racing Rookie of the Year. Tony Stewart was a go kart racer when, at the age of 16, he won at World Karting Association championship.

There's work to do, but Bob Pierce believes his son is on that path.

"There are a lot of little things he's learning," said his dad. "He learns something every time he races, and that's what you're supposed to do. I can foresee him going anywhere he wants to go. I really do."

"Even if I never got the change to race against those guys in NASCAR, this is still where my hearts at. I've still got a good things going for me."