Decatur City Council holds study session on dredge project
Posted: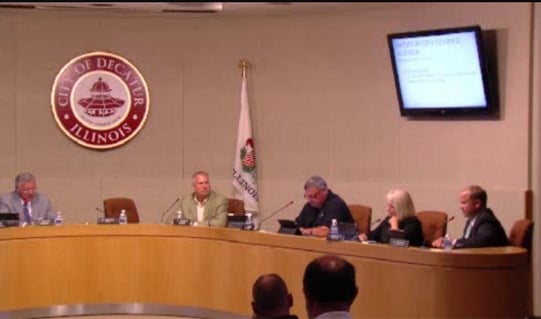 DECATUR - Decatur residents got a look at what they can expect to see from the city's new dredge project at a Decatur City Council study session Monday night.

The massive public improvement project continues to progress as workers are assembling piping, staging equipment, and performing earthwork to rehabilitate the Oakley Sediment basin to store piped-in dredge material.

The work being done is part of a $90.4 million project to remove silt from basins 1 through 4 of Lake Decatur. This would increase the water supply by 30 percent, and would make the lake three-and-a-half to six feet deeper in various areas.

Vice President of the Great Lakes Rivers and Lakes division Jon Nieman said that he hopes to begin actual dredge operations during the first week in September in Basin 1. Channeling would begin at the current staging area near Lost Bridge Road, and would work its way towards the South Water Treatment Plant.

Eight miles of piping will be submerged in the lake along with power cable, and boaters are urged to exercise extreme caution when transiting the lake. The piping and power cables will be marked by buoys, and warning signs will be placed near dredge equipment.

Nieman also announced a vendor fair will be held July 22 in hopes of attracting local vendors to assist with the project. Of the 35 hourly employees currently working on the project, 29 of them were local hires.