CI Sports Report with Elise Menaker: Fit at 50
CI Sports Report with Elise Menaker: Fit at 50
Posted: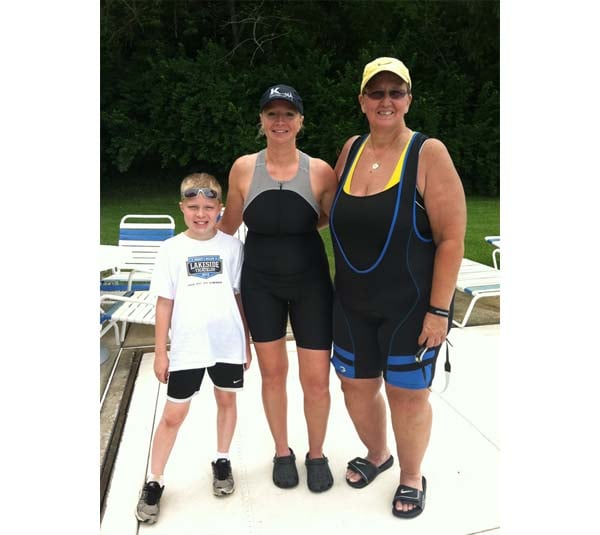 A triathlon can be scary.

It can be motivating.

It can force you to do things you never thought you could do.

Like in just a few years' time, try going from barely being able to walk up the stairs to your second triathlon.

In this Central Illinois Sports Report with Elise Menaker she checks back in with Candy Ridgeway and find out how you can still be fit at 50.
A year and a half ago this was Candy Ridgeway, "To think about where I came from when just a few years ago I was heavy enough that I could hardly walk upstairs.

I would get winded walking down the hallway," she explained.
Her health issues then, nowhere near the same concerns today...
"I try to train like five, six days a week," she said.

"Sometimes my trainer tells me that I have to take a break, that I train too much."
Candy started shedding the pounds in Central Illinois' biggest loser.

In 13 weeks she dropped 42 pounds.

Today, she's about 130 pounds lighter.
"I want to grow old and I want to be healthy doing it," she said.
She's already completed one triathlon and set two more goals.

She accomplished the first, a mutli-day bike ride, "The second thing I wanted to do when i turned 50 was to do the Rodney T. Miller triathlon and I'm almost there."
But getting there that's been a whole other test.
"I had to learn how to swim to do this," she described.

"I could get myself across the pool when i started last June, but i had to learn how to swim with my head under.

I had to learn how to breathe correctly."
She's turned to friends, she's met through racing, for support and motivation.
"I didn't know that Candy before, I just know the candy now that she is," said friend Theresa Himmelrick.

"She's an inspiration."
Theresa is an inspiration of her own.

The single, full-time working mom is training for the intermediate Rodney T. Miller triathlon and ultimately a half ironman.

Both women prove it's never too late, or even too early, to be up for a challenge.
"I love it," Theresa said with a smile.

"I would have never thought that i would be doing today with my 9-year-old son."
Sebastian Himmelrick said he's going for the gold in this year's Rodney T. Milller Kids Duathlon.
"It ain't that hard but you just have to try your best to do it," he said.
Having that winning attitude is sometimes that's half the battle, especially when you're faced with miles of swimming, biking and running.
"She's like a perfect example that it can be done and you can do anything if you put your mind to it," Theresa said.
While Candy's mind is set on this triathlon, it's by aspiring to be someone like Theresa that she continues to better herself and her body.
"At my level, this is like doing an iron\man to me... it's one of the hardest things I can do right now for myself," Candy described.
Right now Candy's focus is on the triathlon.

Next up, Decatur's Shoreline Classic.
"That will be my third shoreline," she said.

"That was the very first thing when I wanted to lose weight was the shoreline."
Returning to where it all started but not as the person she once was.
This weekend marks the eighth annual Rodney T. Miller Triathlon.

The event starts Saturday morning with the kids' duathlon.