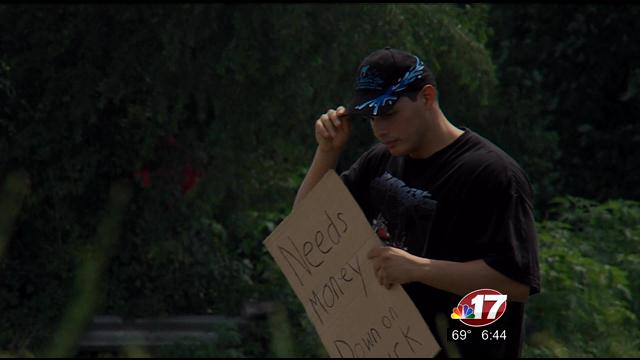 DECATUR - So many of us donate to the homeless on the streets. But while many are truly desperate, investigators tell us, some are imposters, posing as the homeless and taking your cash.

It was a busy day in Decatur, it is lunch time and people are on their way to grab a quick bite. But it is also the perfect time for panhandlers to make some cash.

Just off the property of the North Walmart on North Prospect drive, several panhandlers can be seen daily, and might make more than you think.

We went undercover, making a sign reading "Needs Money, Down on Luck" and stood on the corner. Within minutes we received our first donation. One for $2 and then another for $10.

Within the hour – another one...and another, bring the total to $24.

Some even offered food.

"I don't have any cash, but I can buy you a meal if you're hungry" says Donna Brooks.

We denied and told Donna Brooks about our story.

She says it is not uncommon to see panhandlers here, but it is hard to tell which ones actually need money or food.

But then our day changed, after we met a pro at getting easy money, He was also quick to say how much. He says he's been able to raise $101 dollars was in less than ten minutes and told us what he spent it on.

"Before I took out my sign, the woman had in her hand a dollar bill. Five or six cars later, the woman gave me a bill and I thought, yes I can buy some beer. They think man this guy needs to eat, give him some money."

So is it legal?

After an officer drove right past us, we thought we had out answer, but went to the city manager for more information.

"I think it is safe to say that we know some aren't who they say they are" says Ryan McCrady.

McCrady says panhandling can sometimes fall under unlawful solicitation. He also provided WAND News documents saying it is illegal to panhandle "in an aggressive manner in a public area." Or "On a private property if the owner, tenant, or lawful occupant has asked the person not to solicit on the property."

Based on these rules, what the men were doing is legal.

We averaged about $12 an hour. If we kept that going for an eight hour work day that is $96 or $480 a week. All tax free.
We took all money raised, doubled it, and gave it to a local homeless shelter. The city manager and police were aware of us shooting this story, however they said they would treat us like anyone else on the street.